EFFECTIVE WATER TREATMENT SYSTEM DEVELOPED IN SOUTH AUSTRALIA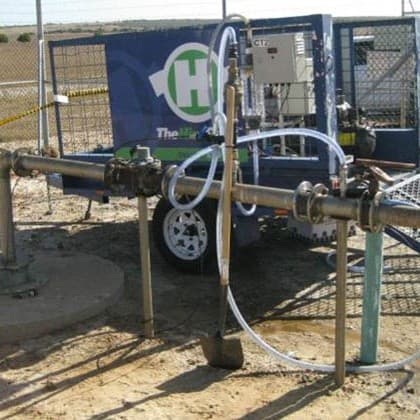 Hydro-dis trial unit tested at the Horrocks Bore Field in Western Australia.
A south Australian company Hydro-dis Water Treatment System has showcased a new device that provides quick and immediate disinfection, improving the quality of the water by removing metal, and other residual chlorine.
With South Australia being the driest state in the driest continent, it has needed to further innovate, which has made it a world leader in such developments.
Managing Director Mark Carey said the Hydro-dis technology was a simple alternative to other contemporary treatment methods and would be highly beneficial for rural communities.
"We are reducing environmental footprints, health and safety in the workplace, and costs across the board," he said.
"Our product is in the same boat as UV and Ozone systems because it has immediate killing power but we provide a residual to chlorine, which gives the water a level that meets the standard of drinking water.
"In a rural community with a gas plant (to treat water), once the gas runs out they have to keep replenishing it – trucks are having to travel out there all the time and refill the gas station." He continued.
The machine can be attached to a pipe and as the water flows through it, the system cleans and filters out the water.
The systems can clean up to 10 million litres a day.
The technology uses insitu electro-catalytic generation of chlorine to disinfect water and can be used for various industries to treat potable, non-potable and wastewater.
Although the system does away with harmful chemicals, it still provides long-lasting protection.
"It can be used to remove minerals, iron and manganese, from water. Normally, the water is put through chlorine gas and then it goes through a multimedia sand filter that removes those irons and then they chlorinate it after that.
"Our technology makes the iron and manganese easier to remove in the sand filter, improving the efficacy. Then we use it to chlorinate the water after the sand filter so that it's ready for delivery to the client.
"Chlorine gas can be quite dangerous and there are a lot of safety procedures for using it.  You need a purpose built building, air quality monitoring and alarms for escape of gas as well as self-contained breathing apparatus and that sort of stuff." Carey said.
Carey will travel to India next month as part of a South Australian delegation to the arid state of Rajasthan to help provide water disinfection solutions.