Published 19-08-2021
| Article appears in August 2021 Issue
Effective Repair Using Laserline Cladding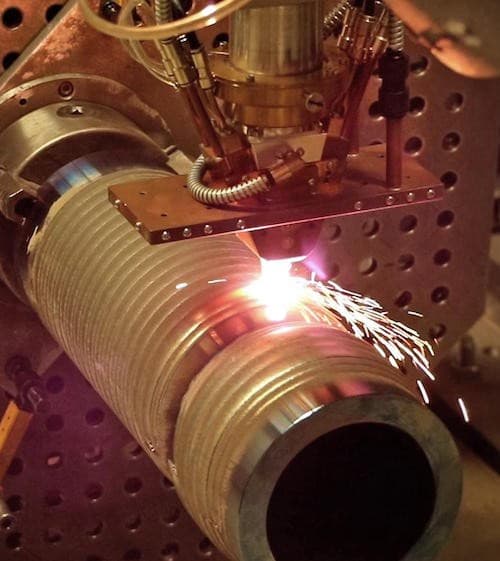 Repairing worn or damaged parts instead of replacing them is common practice. Parts don't last forever but it is possible with laser technology to repair a part exposed to corrosion, wear or damage and even give it a longer life. A reliable repair process is called 'cladding.' Cladding a damaged or worn part occurs where the laser beam directs metal powder to the identified site under highly controlled conditions. The process can reinforce damaged sections of very large parts and even to small parts that may otherwise have been difficult to repair.
Lasers are used for a range of purposes across different industry sectors. Leading this usage is Laserline GmbH, a German company with over 20 years of development expertise in designing high power diode lasers for applications in welding, heat treatment and cladding. Distributed here by Raymax Applications Pty Ltd in Sydney, Laserline has over 5,000 installations across the world for general welding, heat treatment, brazing and cladding. They are found in sectors such as the car industry in Korea where lasers are used in the manufacture of Audi Q3 vehicles, to the North Sea for removing biofouling on ships, and for the repair of defence aircraft in Melbourne. Engineering workshops across Australia use Laserline high power diode lasers especially for cladding repairs of large parts from oil rigs, vehicles and even turbine blades, to name a few areas where repair is cheaper than replacement.
Laser cladding occurs by using the laser to generates a heat source. This melts the surface of the workpiece in a very localised spot forming a molten pool, by applying short but intensive energy inputs that do not cause deformation yet are sufficient for melting. Management of the process during operation is possible as the energy input can be fine-tuned controlling the surface heat.  A coating material, either as powder or wire, is added to the molten pool. This coating material is melted, fusing it with the original. Once cooled, a solid fusion compound of the two metals, or metallurgical alloy, remains securely bonded to the structure. Diode lasers offer the best results in the cladding process due to the 'top-hat profile' that generates a uniform enerinfo@raymax.com.augy input ensuring uniform surface treatment. The fusion between the base stratum and coating material provides a significant advantage as the metallurgical joins are very robust and add life to the repaired part.
The extent of laser cladding examples can be found in agriculture, cylinder repair in the mining industry, and even coating on heat exchangers. Agricultural field vehicles where traditional carbide layers that protect saw blades, disc harrows or counter blades from wear and corrosion can become damaged. Diode lasers can vary the coating thickness while reducing distortion of the part by forming a 'quiet' molten pool using minimal heat, still resulting in effective repair even extending the part working life. A growing market is seen in laser coating of hydraulic cylinders used in technical mining facilities such as coal extraction. The original coating on a cylinder corrodes very quickly exposed to the localised atmosphere and can lead to leaking. Until now chrome plating was the primary method used but this process is being replaced due to the durability of laser coating. Protection against highly corrosive gases or liquids that come into contact with metal heat exchangers during usage can affect the part life. It is possible to apply a thin repair coating to extend the product life. This same treatment can be used in incinerator plants where the metal structures has been attacked by chlorine. Cladding treatment of these items is a far more economical way to go.
To contact an engineering workshop near you for repair work or learn more about Laserline lasers contact Raymax Applications Pty Ltd in Sydney on info@raymax.com.au