EFFECTIVE FIRE SUPPRESSION THE SOLUTION TO RECENT BUS FIRES AND DATA CENTRE FAILURES
10-01-2017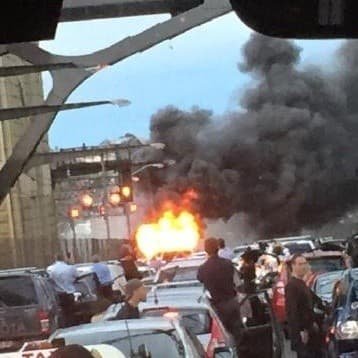 Picture: Alex Heath Twitter @sydheatha
Following the announcement that buses without fire suppression systems will not be taken off Sydney's roads, fire safety on public transport is once again a hot topic.
More than 2000 buses on Sydney's streets are operating without fire suppression systems - and according to NSW transport minister Andrew Constantine, there are no plans to change that.
Constantine's comments come despite the fact that the Sydney Harbour Bridge bus fire could have been averted had a misting system been in place. And according to David Thurn, General Manager at Bulbeck Fire Industries, the cost-effective and space-efficient Compact Line System (CLS) would have been the ideal solution:
"Space is limited on many vehicles now and especially on a bus. The CLS takes up minimal space due to its size and still delivers phenomenal knock down power on any engine bay fire."
With Brisbane City Council also recently approving a new $75m data centre for Fortitude Valley, fire safety in data centres is also on the agenda.
That conversation has been fuelled partly by three recent high-profile incidents: the Delta Air Lines data centre failure that stranded thousands of travellers; Ford's data centre fire that halted sales operations; and ING Romania's fire suppression system failure that caused a 10-hour outage for card services, ATM transactions and internet banking.
While those system failures caused no casualties, all three incidents could have been averted had more effective gaseous fire suppression systems been installed - like Bulbeck Fire's gaseous fire protection systems. They automatically prevent the loss of irreplaceable, high-value assets - with zero interruption in service and no loss of data.