Published 15-09-2020
| Article appears in August 2020 Issue
Effective cleaning during the pandemic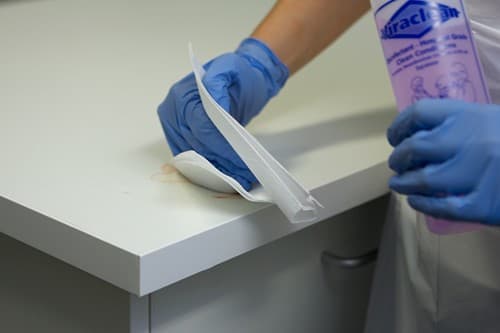 As we progress through 2020 it's become apparent that COVID-19 isn't going to disappear quickly. Instead, we need to adapt to the new normal when it comes to surface cleaning and disinfecting.
Many of our customers are concerned about the risk of virus transmission via a contaminated surface. Some viruses cannot live for long outside a human or animal host, whereas others can survive for prolonged periods on contaminated surfaces.
Based on current information and published evidence, the coronavirus sits somewhere in the middle of the risk zone. Its ability to remain alive on surfaces is varied, making this virus even more challenging to remove. Thorough surface cleaning and disinfecting is imperative to ensure any potentially contaminated surface is left in a clean and hygienic condition.
When cleaning a surface the first step is to physically remove all dirt and grime; this requires some elbow grease.
The surface you're cleaning, whether floors, walls or benchtops, will determine which cleaning products to use. A good detergent or combination detergent and disinfectant is the right place to start.
Once the surface is clean, use a TGA-registered disinfectant that has been entered into the ARTG with specific claims against SARS-Cov-2 (COVID-19) or COVID-19 on the product label to disinfect the surface.
Viraclean is a hospital-grade disinfectant intended for use on a range of medical surfaces to better protect patients and staff from the risk of COVID-19 virus cross-infection.
Whiteley Corporation, a leading global innovator in infection prevention solutions, is now making Viraclean available to the wider market, including the manufacturing sector.
Effective surface cleaning, particularly of high-touch areas (doorhandles, benchtops) combined with good hand hygiene will assist in protecting your staff. Ensuring hand sanitisers are easily accessible will assist in minimising the risk of infection.
Remember: to keep everyone in our community safe – including your staff – wash your hands regularly, socially distance, and when necessary, wear a mask.
Whiteley Corporation
1800 833 566