Published 28-07-2020
| Article appears in August 2020 Issue
AN EDUCATION IN QUALITY FURNITURE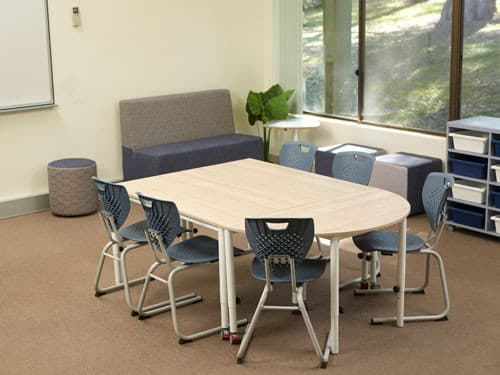 The education space is a brutal environment for furniture. Daily wear and tear is something of an understatement when it comes to equipment in Aussie classrooms, and chewing gum stuck under a desk is the least of it.
The problem for classroom furnishers is finding products that offer the perfect mix of comfort and robustness. Imports can be hit and miss; for every quality piece, there's a cheaply made alternative that's ready for home time long before the students are.
It's a field where experience definitely pays off; just ask NSW furniture company Batger.
Established in 1953 as a manufacturer of furniture for exclusively commercial purposes, and banks in particular, Batger pivoted to the education sector in the late 1970s.
They brought with them their years of experience building the kind of hardy, austere furniture found in the bank branches of old. Since then, Batger has carved a niche as a solid, dependable manufacturer of Australian made school fittings.
"We make nearly everything in our factory in Girraween, in Sydney's west," says Stephen Richards, Batger's sales and marketing director.
"We've got a team of about 60 people, but that goes up in the busy season around Christmas and the back-to-school period."
In the Girraween factory, Batger has a full woodwork and metalwork section that includes robotic welding and powder coating along with cabinet making and in-house upholstery.
"We're known for our tables and cabinetry, but what gives us an edge is our ability to customise and make furniture of all different sizes depending on the job," Richards says.
"We use Australian steel because this kind of furniture has got to be built tough."
It was in that spirit that Batger teamed up with Tente. Five years ago, Batger's then-supplier of wheels and castors wasn't meeting the brief.
"We were using basic industrial castors for our tables and wheels for bigger benches, but the quality just wasn't there," he says.
"We were looking to elevate our products, so when we started working with Tente, it was a revelation."
Tente's range of high-quality castors and wheels made it easy for Batger to meet the often tricky design challenges of their clients.
"We get thrown some design wildcards," Richards says.
"Flexible learning furniture has become really popular in Australian schools, so our work needs to be able to have that flexibility."
The quality of Tente's castors and wheels was immediately apparent to the Batger team, who found them a boon in the design stage.
"Tente's products look great," Richards says.
"They're stylish, they look professional, and they've got an aesthetic that makes them look as though they were always a part of the furniture's design. They never look like they've been tacked on."
Richards puts this down to Tente's manufacturing process and quality control.
"It's not just the look either, their build quality is next level," he says.
"A Tente wheel feels like a premium product, but without the premium pricing."
That build quality has made a marked difference to how Batger's products are received by customers.
"We have no failures. None," he says.
"We've tried a few different suppliers of wheels and castors in the past, and there were always failures and returns. Not with Tente, ever."
Tente fills its range with features that set it apart in the industry. Extra soft wheels ensure low vibration and low noise while remaining extremely resistant to wear. An automatic self-cleaning function keeps the wheels pristine.
And Tente's user-friendly kickstop brakes and central locking castors make stopping – and safety - a breeze.
Richards says these features are a huge value add.
"The brakes, especially in classrooms, are terrific," he says.
"And the Tente aesthetic just lifts our furniture to the next level of quality."
Due to the unpredictable nature of Batger's workload, the firm needed a supplier that could problem solve with versatility, speed and imagination. Tente soon proved it could do all three.
"If the product wasn't good enough on its own, I think it's the service that really sets Tente apart," Richards says.
"Their product knowledge is second to none, they're never at a loss. And if we get a tough design from a customer, our Tente rep is in our factory the next day with a variety of options on the table. It's just superior service."
For Batger, the Tente partnership has elevated their range of Australian made furniture not just off the ground, but to new heights. Richards says Tente makes it easy for Batger to offer the quality and flexibility for which they've become renowned.
"Schools are living entities, you can't just have big, bulky fixtures that don't move," Richards says.
"With Tente's range, we're able to deliver today's education furniture needs with quality and style, and at a great price."
Tente
1300 836 831