EBOOK ON POWER AND DATA CIRCUIT PROTECTION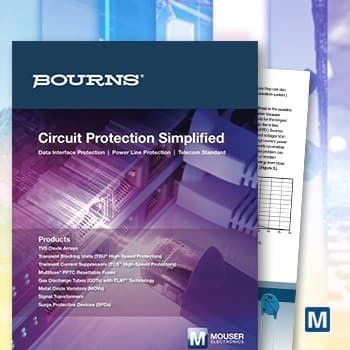 Mouser Electronics and US-based electronics components manufacturer Bourns have produced an eBook offering an in-depth look at circuit protection for power and data ports. Circuit Protection Simplified provides insights and strategies for protection of data and Ethernet ports, DC power supplies and other critical power and communication applications.
As the number of IoT and other networking devices soars, so does the number of power and communication ports required to support them. Each device needs circuit protection, ranging from basic protection against mild events to full protection against extended power surges. Rugged, reliable circuit protection is necessary to ensure the continuous performance users expect.
The new eBook provides detailed guides to specific applications, including electrical transient protection for power over Ethernet, surge protection for DC power supplies, and external Ethernet port protection. Additionally, multiple articles on Ethernet protection and primary and secondary protection standards help clarify International Telecommunications Union and Telcordia regulations.
The eBook features relevant Bourns products, helping readers identify the ideal solutions for their needs. The company's products, available in Australia and New Zealand through Mouser, include gas discharge tubes with FLAT technology, LED protection devices and a comprehensive range of overcurrent and overvoltage protectors. Circuit protection solutions from Bourns enable designers to deliver safe and reliable power and connectivity to their target applications.
Mouser Electronics
+852 3756 4700
au.mouser.com