EBOOK EXPLORES THE FUTURE OF 5G CONNECTIVITY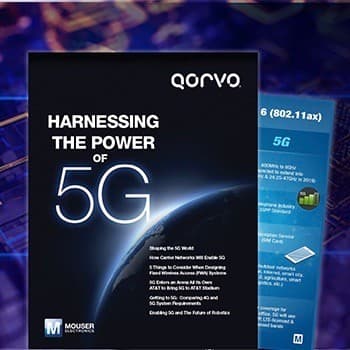 Mouser Electronics and radio-frequency systems manufacturer Qorvo have released an eBook taking an in-depth look at fifth generation mobile connectivity and its implications for mobile broadband and a variety of new technologies and applications. In Harnessing the Power of 5G, experts from the two companies provide detailed insights on the steps being taken to enable 5G connectivity, as well as potential applications, including fixed wireless access (FWA), robotics and gallium nitride (GaN)-based multiple-input, multiple-output (MIMO) technology.
5G connectivity will bring dramatic improvements to the bandwidth, capacity and reliability of mobile broadband, and support new and emerging technologies, including autonomous vehicles, vehicle-to-everything communication and augmented reality. These low-latency applications demand high-performance 5G infrastructure, and Qorvo's leading 5G base station products have helped advance the future of 5G technology.
The new eBook includes a valuable analysis of the differences between 4G and 5G system requirements and a detailed guide on how to design FWA systems using 5G technology. Qorvo's expert engineers examine the use of GaN technology in the development of 5G massive MIMO. Articles showcase a variety of applications for 5G technology, including the introduction of 5G connectivity to AT&T Stadium, home of the Dallas Cowboys football team.
It also highlights relevant products from Qorvo, including its industry-leading RF modules and switches. The Qorvo product line, available from Mouser, includes 2.4GHz Wi-Fi front end modules, RF amplifiers, switches, filters and a broad range of evaluation boards.
Mouser Electronics
+852 3756 4700
au.mouser.com