eBOOK EXPLORES CONNECTED TECHNOLOGIES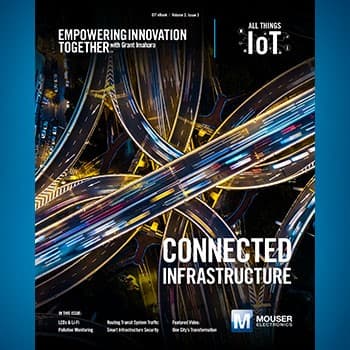 Mouser Electronics has released a new eBook about industrial automation as the third and final part of its All Things IoT series. In it, industry experts explore the innovative technologies and trends that cities are applying to emerging smart infrastructure projects.
It includes articles on LEDs and light fidelity (Li-Fi) lighting systems, threat modeling and Internet of Things (IoT)-based pollution control, as well as an exclusive video of celebrity engineer and Mouser spokesperson Grant Imahara in Porto, Portugal to learn more about a local company transforming the city into a Wi-Fi mesh network of mobile hot spots.
"So far in the All Things IoT series, we've seen how connected technologies are improving our lives at home and in the workplace," Kevin Hess, Mouser Senior Vice-President, Marketing said. "In this new eBook, our experts investigate the sometimes-unnoticed parts of our world where IoT can make a major difference, such as lighting, traffic and green energy."
The All Things IoT series started with a video following Imahara as he visited the Hewlett Packard Enterprise IoT Innovation Lab to examine how the IoT is affecting workplaces and cities as a whole. This was followed by eBooks focusing on home and industrial automation.
The series is part of Mouser's Empowering Innovation Together program, which has been one of the most visible and recognised programs in the electronic components industry since 2015, featuring topics such as the future of human-machine interaction in Generation Robot and the amazing benefits of technologies in Shaping Smarter Cities.
The All Things IoT series is sponsored by Mouser's valued suppliers Digi International, Maxim Integrated, Murata and TE Connectivity.
Mouser Electronics
+852 3756 4700
au.mouser.com