EBOOK CONNECTS WITH INDUSTRY 4.0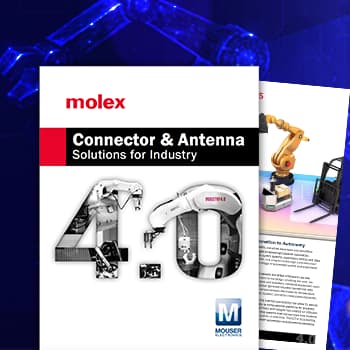 Mouser Electronics and Molex have collaborated to produce new eBook on "Connector and antenna solutions for Industry 4.0". The volume covers some of the most important topics in industrial automation, including digital twinning, deep learning, and neural networks.
The eBook also spotlights the Molex Industrial Automation Solution (IAS) 4.0 range, as well as Molex products such as Ultra-Fit power connectors and Contrinex sensors.
The development of highly advanced semiconductors has led to new achievements in artificial intelligence and machine learning, empowering manufacturers to achieve Industry 4.0 initiatives on a global scale. To stay on top of the rapidly changing face of industrial automation, manufacturers will need to embrace change and develop custom solutions that take advantage of the flexibility and efficiency of Industry 4.0.
With an emphasis on the Industrial Internet of Things (IoT), the new eBook provides valuable case studies and analyses of IoT technologies in applications like food and beverage manufacturing, power plants, and complex robotics.
Contributions from Mouser and Molex experts offer the most up-to-date information, including tips on how to leverage low-power sensors and artificial intelligence to optimise performance.
A high-level overview by Riky Comini, Molex's Global Director of Industrial Automation, provides a roadmap for the future of industrial automation, guiding readers from today's architectures to some of the future's most fascinating possibilities.
Mouser Electronics
+852 3756 4700
au.mouser.com