EASY REMOTE MONITORING OF MACHINE PERFORMANCE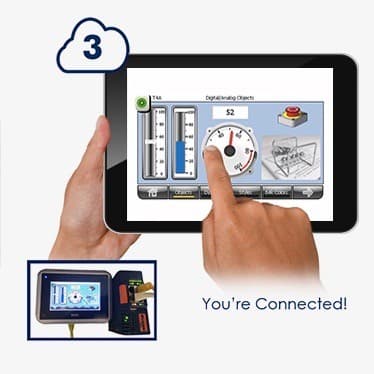 It is increasingly important that machine builders and end users can quickly check the status of machines. However, full industrial IoT solutions are often too complex, time-consuming and costly to deploy. HMS Networks, available in Australia through Global M2M, targets this situation with M2Web, an innovative service included free of charge for all Ewon Flexy products registered on the Talk2M secure cloud platform.
With M2Web, users benefit from secure browser-based mobile access to key performance indicators from remote machines via Cosy and Flexy products, enabling users to connect to an HMI, web server, PC, tablet or smartphone. M2Web does not require any software; the user simply needs to open a standard browser. In M2Web, the information is presented in a modern responsive graphical interface, and a map view provides a global perspective of installed machines in the field.
This feature enables users to easily get instant information about the performance of all connected machines. The user simply defines up to six indicators by selecting parameters inside the tag-database of each Ewon Flexy. Each indicator visually displays blue for normal status, yellow for warning and red for alarm.
While M2Web is an easy way for machine builders to monitor all their machines' indicators in one place, it is also a very handy tool for end users. Builders can easily put M2Web at the disposal of end users, allowing them to use M2Web as an easy monitoring tool, including a summarised view of all connected machines on site.
Powered by the proven Talk2M secure cloud platform from HMS Networks, M2Web provides machines builders, end users and their system integrators a new way to instantly access their installations from any device. Thanks to the key information made available through M2Web, users can avoid any production downtime and improve operational efficiency.
Global M2M
03 9338 8189
globalm2m.com.au/