Easy does it with Optimum Goods hoists
31-08-2010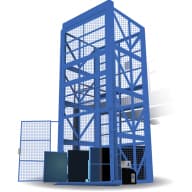 Material handling specialists Optimum Handling Solutions recently supplied an electric goods lift to a large Australian food processing plant to boost productivity.
The company had to efficiently lift pallets to a roller door opening on the top level of its building.
The pallets containing flat packed cardboard boxes were used to fill a box making machine.
Optimum supplied a heavy duty 2000kg goods hoist with 9m travel and a goods cage designed to handle two pallets per cycle.
This proved to be a perfect solution.
Simple controls make it easy for operators. Also, interlocked doors and an anti-drop feature means it is safe and easy to use.
Previously, all pallets had to be carefully manoeuvred one at a time by an experienced forklift driver up to the door opening – a tiresome process when 32 pallets are delivered daily.
Goods hoists and mezzanine lifts greatly assist any operation when elevating goods.
So whether it's a simple 250kg mezzanine lift for nuts and bolts or a more complex 3000kg heavy duty lift with 12m travel, Optimum Handling has the solution