Easy does it with Millsom VacuMaster
23-06-2014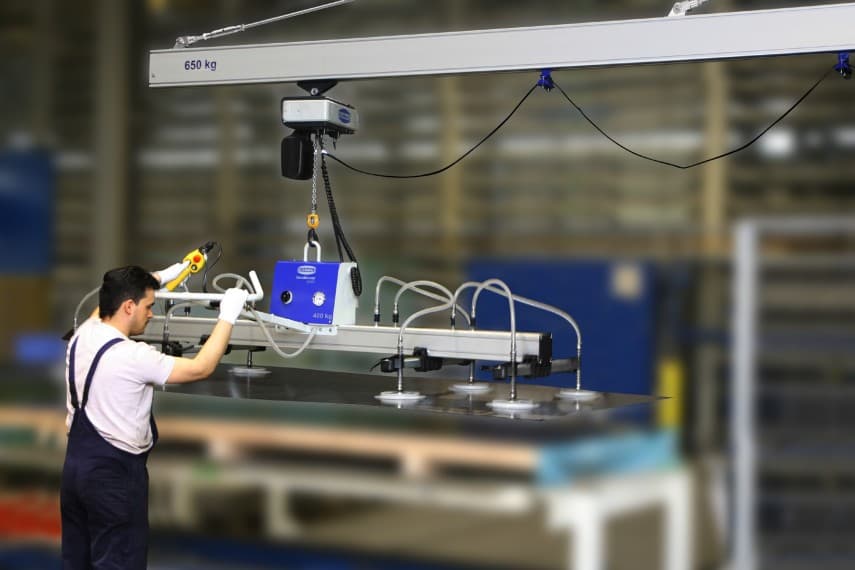 The lifting system VacuMaster Horizontal is suitable for a broad range of industrial materials handling handling applications.
It is ideal for lifting and moving sheetmetal, laminated board, plastic sheets, drums, benchtops and more.
Workpieces can range in shape and size, with weights of up to 750kg and sheet sizes up to 4000mm x 2000mm.
Features include:
Long lifetime due to extremely robust construction
Individual adaptation of the device with a compact modular system
Audible warning in the case of a power failure
Large vacuum reservoir
Safety mechanisms to prevent incorrect operation
Clearly visible vacuum gauge
Easy handling thanks to low intrinsic weight
All controls easily accessible
Millsom vacuum lifters are designed to be very modular. Choosing from different components, a unique specialised lifting system can be created.
By using different vacuum pumps, main beams, cross beams, suction plates, suction plate holders and control handles, a lifting device can be created to best suit the workpiece.
Millsom Materials Handling
Ph 1800 99 22 11