EARLY BOOKINGS LEAD TO AUSTECH SHOW EXPANSION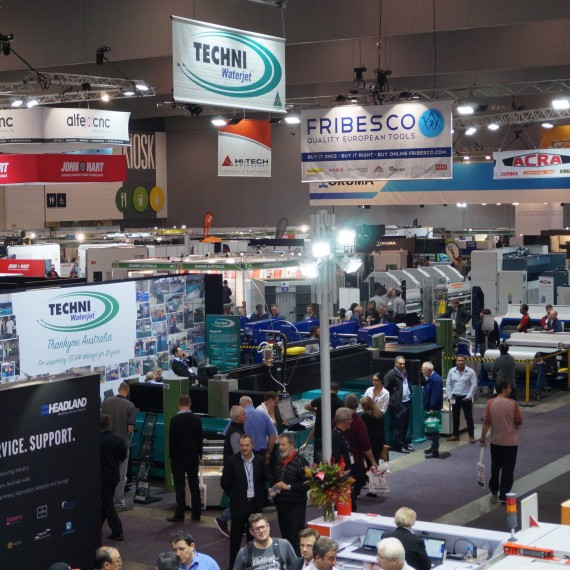 AMTIL reports strong early exhibitor bookings for the Austech 2019 manufacturing technology exhibition, setting the stage for an impressive (and larger) show next year.
Billed as Australia's premier advanced manufacturing and machine tool exhibition, Austech will take place at Melbourne Convention & Exhibition Centre from 14th to 17th May 2019.
AMTIL has always held a ballot to ensure that floor space is distributed fairly among the companies who register early as exhibitors, and recently conducted the ballot to allocate initial floor space for Austech 2019. The ballot revealed high levels of early interest in next year's show, with exhibitors registering early and committing to large stands on the exhibition floor.
In total, more than 3600m2 of floor space has already been sold, representing more than 70% of the available exhibition area. And, as that accounts for only 65 exhibitors, there appears to be a trend towards taking larger stands at Austech 2019.
Space sales for Austech 2019 are currently comfortably exceeding the levels seen at the same point during preparations for the last exhibition, held in Melbourne in 2017 and one of the most successful shows in the history of Austech. As a result of such strong early interest, AMTIL has taken the decision to expand its booking with the Melbourne Convention & Exhibition Centre to accommodate the additional exhibitor numbers expected.
As well as showing strong overall numbers, the ballot showed a high degree of diversity among the exhibitors. As well as Austech's foundation exhibitors of machine tools and ancillary equipment, strong enquiries have been received for the show's dedicated technology areas: the Additive Manufacturing Pavilion; the Air Technology Pavilion and the Digitalisation Pavilion. There has also been strong interest in the Manufacturers Pavilion, an area devoted to highlighting some of the great manufacturing companies working in Australia.
"The Austech floor space ballot has always been a great litmus test for overall levels of confidence in the manufacturing industry in Australia," says Kim Banks, AMTIL's Events Manager. "We're gearing up for a great, big show. We anticipate many more bookings of regular and new exhibitors over the coming months. All the indications suggest we're in for a bumper exhibition in May 2019."
Austech 2019 will showcase the very latest in advanced manufacturing technology, including specialised equipment areas showcasing additive manufacturing, air technology and digitilisation. As well as manufacturing technology, Austech will also be showcasing some of the very best Australian manufacturing companies in their own dedicated area, the Manufacturers' Pavilion.
Companies who are interested in exhibiting at Austech 2019 should contact AMTIL's Events Manager Kim Banks. Space is selling fast, so companies are advised not to delay to ensure they get a good spot on the exhibition floor.
AMTIL
03 9800 3666
www.amtil.com.au