The EAGLE has landed
08-02-2012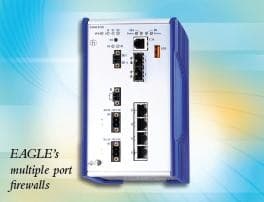 Hirschmann has released one of the most important advances in Ethernet security hardware – two new multiple-port firewalls.
Through Belden, it has introduced the EAGLE20-0400 and EAGLE30-0402 firewalls, which deliver significant cost savings whilst achieving greater link speeds. They represent a significant technological innovation as they are the first firewalls on the market in a convectioncooled DIN rail housing that supports six LAN ports — two of which are Gigabit — with such a range of WAN connectivity.
This extended number of ports enables users to deploy a single device instead of having to use multiple EAGLE20s.
Robust network security, which is a critical step towards highest network availability, is provided.
Because Belden has focused on the needs of industrial networks, the new EAGLE20-0400 and EAGLE30-040 bring a number of key benefits over current options by offering multiple ports, Gigabit ports and WAN connections.
They also have a greater temperature range, more flexible deployment possibilities and offer wider voltage ranges.
The Hirschmann EAGLE20-0400 firewall supports 4 100Mb/s ports, while the EAGLE30-0402 firewall supports 4 100Mb/s ports and 2 1Gb/s SFP ports.
Initially, the hardware release will support Ethernet ports only.
A later hardware release will also support WAN connections, including ADSL, SHDSL, VDSL, E1/T1 and UMTS.
Belden
Ph: 1800 500 775
www.beldenapac.com