Published 23-04-2019
| Article appears in April 2019 Issue
E-DRIVE SYSTEM POWERS UP PICKING TROLLEY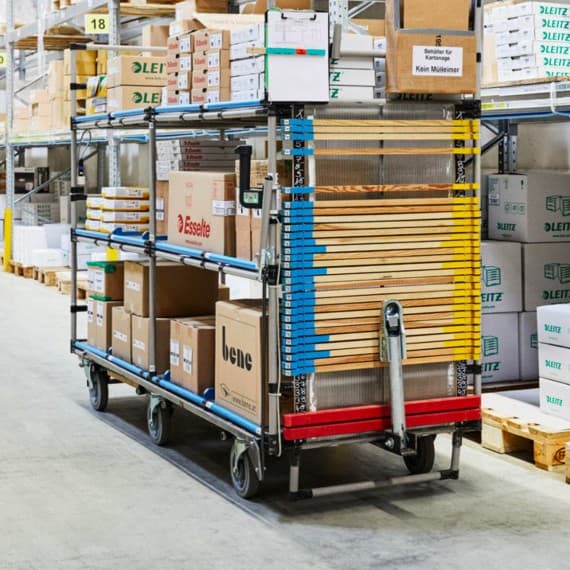 A new design of picking trolley with a novel powered wheel system has revolutionised logistics at a global office products giant.
Esselte Leitz is a company known for its innovative office products including ranges for organisation, presentation, filing, archiving and storage. It has subsidiaries in 25 countries around the world, including Australia, and sales in more than 120.
As part of its 24-hour delivery service, orders received before 1pm are shipped the same day, which demands maximum flexibility of its personnel and equipment. So the company has looked to improve the utilisation of its technical resources and reduce the time its employees needed to pick orders.
Working in close cooperation with Esselte Leitz, Tente developed multi-shelf picking trolleys with an electric drive (e-drive) system, low-noise castors with rubber treads, and ergonomic controls. This smart solution allows Esselte Leitz's employees to easily transport large volumes of goods, which not only improves productivity, but also reduces walking distances by up to 80 per cent.
High volumes
Esselte Leitz ships 1.7 million order items and records 6 million goods withdrawals each year, with a total weight of 40,000 tonnes, so the company is always looking to improve its systems to make its order picking more efficient. As a central part of this process, it introduced a new system designed to allow shipments to be organised with as little effort as possible, while also reducing the use of traditional electric industrial trucks.
The company's aim was to increase its system's capacity and flexibility from one minute to the next. In order to achieve this, it decided to use order-picking trolleys that could move under their own steam. But as these trolleys would weigh up to 400kg when fully loaded, they needed to be easy to operate, move quickly and comfortably, and manoeuvre perfectly.
Powered movement
At first, Esselte Leitz's idea to remove industrial trucks almost entirely from its warehouses seemed daring, but Tente's engineering team took a closer look and began to consider e-drive motors and wheels, operations and controls, and ergonomics for trolleys.
The team developed a trolley system with a powerful electric motor that can be started and stopped at the push of a button. Its speed, both forward and backward, is infinitely variable, and if no motorised assistance is required, the drive wheel retracts automatically. The wheel is also retracted when manoeuvring the trolley.
Low-noise castors with precision ball bearings and treads made of natural rubber also significantly improve driving and manoeuvring characteristics.
The hand-held control unit is ergonomically designed and installed at the optimum operating position, and the battery charging plug is mounted at the perfect working height.
The control module was adapted to meet the company's specific requirements and the e-drive's highly efficient batteries drastically reduce power consumption.
As an added bonus, the reduced use of industrial trucks means that it also saves time and money on training staff, and on maintenance and repair costs for vehicles.
The heart of the design
An electrically driven industrial wheel system is a novel way to move heavy loads effectively and efficiently. The electric motor and a single fixed wheel are integrated into a single unit to simplify installation.
These powered wheels can be mounted underneath existing trolleys or integrated into new designs, as in Tente's design for Esselte Leitz. And they can be mounted at the front, centre or back of a trolley.
E-drive systems typically include an acceleration handle, a battery pack and charger, and a control unit.
A single wheel can move loads of up to 400kg, and adding a second wheel will allow loads up to 800kg. Powered wheels work well in combination with standard castors by enabling trolleys to be manoeuvred easily in tight spaces.
The suspension system, which consists of a suitably sized spring, allows the wheel to move up and down when needed to ensure it is always in contact with the ground.
What's more, e-drives reduce the risk of injury to workers. There is a significant difference between the force needed to get a load moving and the force needed to keep it moving. Worksafe has strict guidelines on the amount of force required before an aid, such as a powered wheel, must be used. An electrically driven wheel gets loads moving without any physical exertion.
Rubber treads smoothly
The tread material has an important influence on the quality of a castor or wheel as it influences the starting, rolling and swivel resistance, the smoothness of running and the comfort of the operator.
All rubber treads dampen vibrations, are generally extremely friendly to floors and are resistant to many aggressive substances.
Heat-resistant solid rubber tyres can be can be used almost anywhere, even at extreme temperatures. Thermoplastic rubber is non-marking and runs quietly, but cannot be used in the high temperature range.
Pneumatic tyres offer low rolling resistance even on difficult floor conditions, but it is important to maintain the specified tyre pressure at all times. Regular pressure testing ensures that the tyres are functional in the long term.
A perfect match
Esselte Leitz now has a complete system in which all of the components are perfectly matched with each other. Thanks to these new e-drive picking trolleys, the company has been able to optimise its entire work process, increase its productivity and reduce its operating costs.
"From our point of view as a user, the flexible and easily controllable e-drive solution provided by Tente fits very well into our Kaizen approach," says Axel Zühlke, Esselte Leitz's Director of Logistics.
Tente Castors & Wheels
1300 836 831
www.tente.com.au