E-CHAINS FOR A 500T CRANE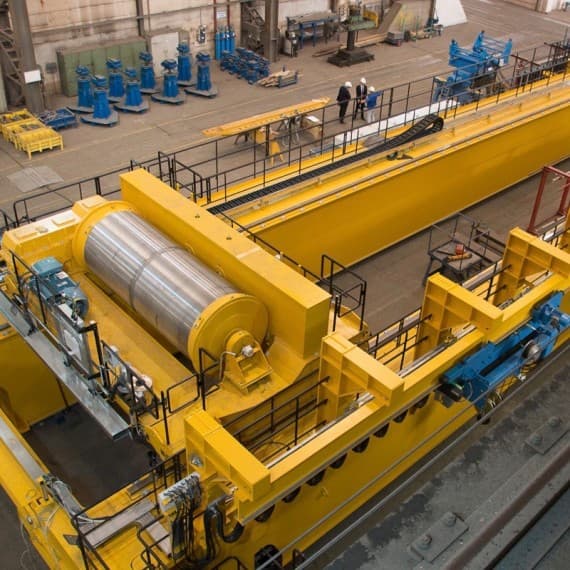 German-based crane manufacturer Kranbau Köthen GmbH has built a process crane with a lifting capacity of 500t and the capability to distribute and finely balance weight in two axes by means of a special shaft end support. Signal and energy transmission takes place through e-chains from igus.
The company, which has manufactured cranes since 1934, specialises in process cranes that are closely integrated into production systems, for example slab, charging and foundry cranes in the steel industry. It has reinforced this speciality since it was incorporated into the leading steel group Georgsmarienhütte GmbH in 1998.
Swiss-Swedish heavy electrical equipment manufacturer ABB makes large transformers in a factory in Sweden. While its predecessor series weighed up to 300t, its new transformers, which offer higher performance and improved efficiency, weigh up to 500t.
This required investment in a new process crane, and ABB commissioned Kranbau Köthen to develop, produce and install it. A special requirement had to be taken into account: the centre of gravity of the transformers is distributed very unequally, so the crane must adapt accordingly and always ensure smooth lifting and lowering of the heavy load.
Based on ABB's specifications, Kranbau Köthen's engineers developed a crane with a special heavy-duty shaft end support consisting of two carriers whose spacing is changed by lead screws. The two attachment points on each carrier are also adjustable, so each of the four winches can be positioned separately. A transformer can therefore be attached in such a way that its weight is evenly distributed over all four attachment points. In addition, the entire shaft end support is rotatable, suspended on a load-measuring bolt of impressive dimensions.
Another requirement was that the crane does not generate any abrasion during operation. If impurities get into a large transformer during the assembly process, there can be serious consequences for its function, so ABB produces its transformers in a very clean environment. To this end, the crane also includes an extraction system on the trolley travelling winch.
Signal and energy cables must be guided on the crane girder to the 30m-wide bridge. Here, the designers chose an igus E4 4040HD series e-chain, which has proven itself in crane technology worldwide. Due to the special design of the chain links with undercut design, the chain is able to absorb high push-pull forces and also provides very good strength to absorb lateral forces. The material of the e-chain – igumid G with an HD design – ensures optimised sliding properties and, as required, a very long service life with low abrasion. Extra features include double strain relief and a floating moving end, which compensates for any lateral misalignment and wheel clearance in the trolley drive.
The design of the e-chain followed a standard process at Kranbau Köthen. Tom Kuhnt, in charge of electrical projects, explains: "We use a form that contains all the necessary information such as specifications, installation situation and options. This allows igus to design the chain quickly and reliably."
There was also good experience with the purchase of chains and cables from a single source, igus. Tom Kuhnt continues: "From our point of view, it has proven to be a complete system, which is designed precisely for the individual conditions."
igus's chainflex cables were developed specifically for use in mobile systems. Due to the favourable environmental conditions (normal climate, no high travel speed), the ABB process crane can use cables with PVC outer jackets. These are more cost-effective than TPE cables and also generate less abrasion than PUR jackets, ensuring cleanliness.
The electrical connection between the two shaft end supports, which can be moved towards each other, is also ensured with igus's e-chains and chainflex cables. E4 series e-chains are also used here. The undercut design provides firm grip in lateral acceleration and inclination of the shaft end support. An integrated brake offers very smooth running.
At the rotating joint of the shaft end support, an enclosed triflex R e-chain with twistable cables from the chainflex product range ensures mobility in the rotary axis. This chain was originally developed by igus for robotics. In the process crane, it is virtually unchallenged in terms of dynamics, but protects the cables reliably in the rotary movement.
Before a crane leaves Kranbau Köthen, a factory acceptance test takes place. Here, the crane is fully evaluated and tested jointly with the customer. This elaborate test is standard procedure and shortens the commissioning time at the customer's site.
Subsequently, the crane was distributed over several flat bed vehicles and transported to Sweden. Part of the route was by sea, requiring loading onto and off a ferry.
Kranbau Köthen received support for the project from its local sales and service partner Svenska Lyft AB. This company, which has a high level of expertise in crane electronics and works regularly with the igus's Swedish subsidiary, will be in charge of the crane's service in the future.
At ABB's factory, the acceptance tests and final inspection included lifting a test weight of 625t, corresponding to 125 per cent of the maximum nominal load, and operating the emergency stop device at full speed.
"After all, as a globally leading technology company, ABB is also a specialist in the field of crane technology and therefore also a critical and competent customer," says Maik Stern, Kranbau Köthen's Head of Production.
High-quality igus e-chains and cables are available in Australia and New Zealand through Treotham Automation, which is also able to service cranes and recommend special solutions for users.
Treotham Automation
1300 657 564
www.treotham.com.au