Dust: don't sweep it under the carpet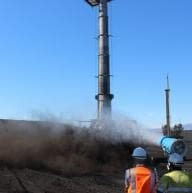 Dust in the workplace can pose a major threat to human health – especially in environments where it is poorly controlled. 
Choosing an effective dust suppression solution is an effective way to mitigate the problem.
People living or working in close proximity to environments that produce substantial levels of dust are vulnerable to significant health risks.
"Areas such as mining environments or in corridors where coal is being transported or offloaded can experience problems with fugitive dust," said Graeme Cooper, Managing Director of Tecpro Australia. "For people close by, some types of dust can cause irritation and inflammation such as rhinitis or bronchitis. Irritable dust can usually be eliminated from the body by its natural defence system such as coughing or sneezing. But there are also some types of dust that are respirable which can cause irreversible harm."
Mr Cooper said the degree of potential harm is influenced by a number of factors. These include the chemical or mineralogical composition of the dust, its concentration, the size and shape of the particles and the length of time a person is exposed to the dust.
"The types of dust that are harmful to humans include silica, coal, asbestos, synthetic mineral fibres, cotton, wood, animal and vegetable dusts," said Mr Cooper. "They can cause problems ranging from allergic reactions to breathlessness or in the case of asbestos dust, cancer."
As a company with substantial expertise in designing and developing award winning dust suppression solutions, Tecpro Australia is regularly called upon for assistance.
"Over many years, we've helped to create dust suppression solutions in environments ranging from mines, construction sites, waste transfer stations and more," said Mr Cooper. "We have specialised skills in designing fogging solutions that disperse a fine mist in the area experiencing the dust problem. Because the dust particles and mist droplets are of similar size, they combine easily and with the assistance of gravity, they fall to the ground."
Mr Cooper said that an advantage of Tecpro's dust suppression solutions is that they do not over-wet the site. This avoids problems associated with run-off and water pooling, and also minimises water usage and costs.
"Where organic dusts accumulate – such as around flour, grain, or wood milling – an explosion hazard is another potential risk," said Mr Cooper. "In these types of environments, a spark or hot surface could ignite the dust, causing a serious blast."
Tecpro Australia offers comprehensive advice and can develop a customised dust suppression system to suit the specific demands of individual sites.
"Together with our clients, our goal is to produce a solution which minimises or eliminates the risks associated with their particular dust concerns," said Mr Cooper. "With effective solutions available, organisations can manage and control their dust problems well, and avoid the risk to human health that is otherwise posed."
Tecpro Australia
02 9634 3370