Published 19-08-2019
| Article appears in August 2019 Issue
DUST DEVIL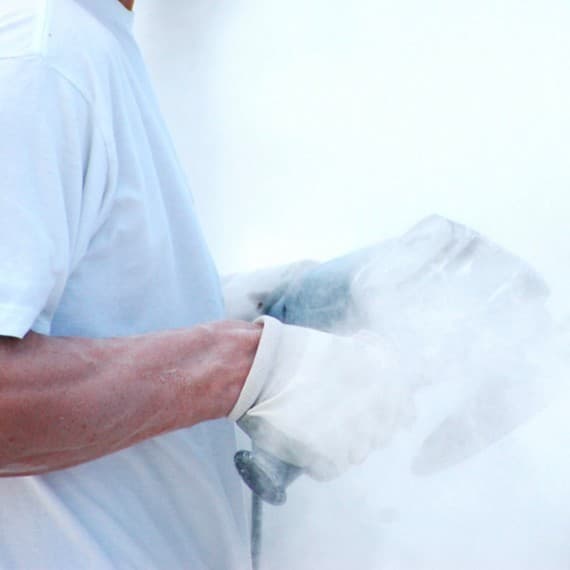 The current industry focus on the dangers of silica dust has more to do with creating awareness of the problem than it is to do with any new causal discovery. However, it is clearly an awareness campaign that is long overdue.
The causal link between respirable silica dust particles and the disease known as silicosis has been understood for decades. Indeed, the US Department of Labor produced a shocking public information film as long ago as the 1930s.
However, changes to both materials and machinery in the intervening time have meant that exposure to higher levels of silica dust have become commonplace in industries that have not hitherto had suitable protocols in place.
In particular, the use of composite stone for worktops, dry cut with high-speed power tools by workers often in smaller companies that have traditionally taken a "pragmatic" view of WH&S practices, has been exposing workers to levels of dust probably far in excess of even the current workplace exposure standard of 0.1mg/m3 (eight hour time weighted average).
And it has only been the identification of illness clusters of acute silicosis in such professions that has brought the problem into the spotlight.
In truth, respirable silica dust poses a risk to workers in many areas outside the worktop cutting industry – from agriculture and mining to tunnelling and from construction to renovation. And these risks are just as pertinent to volunteers and DIYers as they are to professionals.
While different materials produce different levels of silica dust, the health risks are all about the cumulative exposure. So a regular activity of, say, drilling holes in concrete floors could constitute a long-term exposure risk if suitable controls are not put in place to mitigate the risk.
And, as Darren Gallagher, National Category Manager – Workplace Safety at safety supply specialist Blackwoods, is quick to point out, the solution does not begin and end with using a respirator.
"There isn't a single solution that covers all situations," he says. "It really is a matter of following the principles of the hierarchy of controls as defined in the Model WHS Regulations, and in this respect it is education that is crucially important."
That hierarchy of controls is important as it offers a step-by-step guide to minimising risks that between them will provide a total solution. And while some may seem obvious, it is clear from the sickness data now emerging that industry has not been following the guidelines to the letter.
Briefly, the hierarchy of controls begins with substitution (of materials, where possible, for lower dust types), moves on to isolation of the hazard (keeping the workforce physically separated from the dust), and engineering controls (such as ventilation, water suppression or using tools with dust collection).
Should a risk still remain, administrative controls would include good housekeeping policies, shift rotations and modifying cutting sequences; and then, should a risk still remain, personal protective equipment (PPE), including appropriate respiratory equipment and work clothing that does not collect dust.
And the regulations are clear in the assertion that more than one control will normally be required to adequately protect workers.
There is clearly no one-size-fits-all solution to the problem, which is why it is essential to go through the hierarchy of controls for each situation.
Similarly, when it comes to PPE, there is no single solution to the hazards of silica dust. Each activity will have its own requirements based on the risks presented.
As Darren Gallagher puts it: "Whatever work you are doing, as an individual you should wear the appropriate PPE for that activity." And that is the message that all industries have to get across to their employees.
To paraphrase the current Safe Work publicity campaign, it's a choice between a face mask now and an oxygen mask later.