DUST CONTROL: ARE YOU PROTECTING YOUR EMPLOYEES' HEALTH?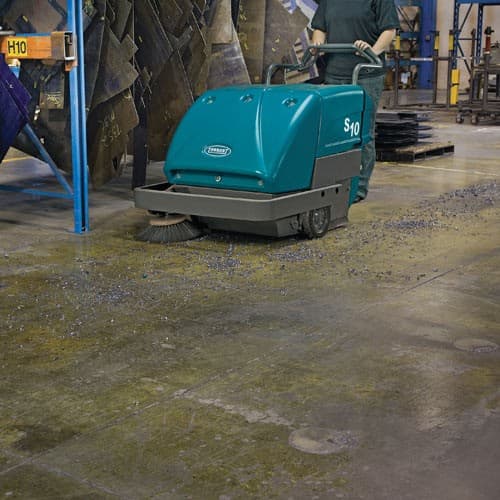 Businesses have a duty of care to ensure the health and safety of all people in their workplaces, including preventing excessive exposure to dust.
All respirated dusts are considered harmful to some degree, even consistent exposure to the slightest amount of dust can have adverse effects on the respiratory system, particularly for asthmatics or allergy sufferers.
Preventative measures to eliminate disease as a result of dust exposure continues to be a major issue in many industries.
Of great concern is dust that is below 5 microns in size, which is unable to be seen, yet can have the most damaging effect on the lungs.
Facility cleanliness and cleaning methods are among the top ten ways to reduce employees' exposure to dust and decrease the likelihood of dust-borne diseases.
With Tennant's range of sweepers, facilities can achieve excellent indoor and outdoor dust control in a variety of applications.
Tennant sweepers are designed to fit comfortably in warehousing and manufacturing environments with their compact design and side brushes perfect for confined spaces.
Tennant's industrial strength sweepers filter dust particles below 3 microns and down to 0.5 microns on some ride-on models, which protects your facility and employees from potentially harmful dust.
Tennant
Ph: 1300 8366268 (TENNANT)