Published 27-04-2021
| Article appears in April 2021 Issue
Durst Industries' bread buttered on both sides, with help from St.George Bank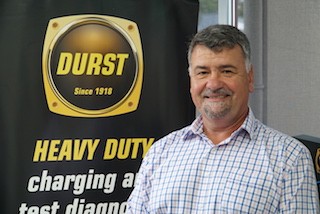 Durst Industries General Manager Alf De La Harpe. Below: St.George Bank's Matthew Kelly, Head of Manufacturing and Wholesale, and Niranga Nanayakkara, Client Relationship Manager. Photos: Barry O'Hagan
What do automotive electrical testing and diagnostic solutions have in common with peanut butter? Answer: Australian manufacturer and distributor Durst Industries.
At the company's newly acquired and freshly fitted out premises in Castle Hill, Sydney, general manager Alf De La Harpe and his burgeoning team of 15 fulltime employees are busy transforming a 103-year-old business into a prime example of what fresh ideas, a shrewd business sense and sound banking advice can produce.
It was just over two years ago that Alf and his four business partners chanced upon a For Sale listing for a Glebe-based business that had been in the same family for three generations. To cut a long story short, they saw huge potential and, with the help of St.George Bank, that business was soon theirs – peanut butter machines and all. 
Alf told Industry Update that one of the things about the business that caught his eye was its massive database of Australian and international customers. "We saw a real opportunity there to tap into that international customer base and grow our export business," he said.
"Today, about 30% of our revenue comes from exports."
He said another thing that appealed to him was that it had "a fairly substantial Australian made component, which I am proud to support".
Durst's bread and butter products include jump starters, battery chargers and test benches for the mining and automotive industries. But it's the butter products, specifically mills for crushing peanuts, macadamia, brazil and cashew nuts, that are driving revenue to new highs. The machines helped the business achieve record sales in March, up 20-25% in two years. The mills represented less than 5% of revenue before they bought the business but now account for 40%.
Alf talks passionately about the nut butter side of the business. "Something that jumped out at me was the rate of growth in the health food industry worldwide," he said. "It was crazy. In particular, freshly made 100% natural nut butters."
The mills are bought by health food stores in Australia and New Zealand, but more recently international sales have taken off since he appointed a distributor in Saudi Arabia to look after the Middle East. He also has a distributor in France who looks after parts of Europe "and we've got a couple of large customers in Singapore, Malaysia and Indonesia".
Of course, Durst's industrial products still make up the bulk of its business and Alf says customers keep coming back because "we give them good quality Australian-made products, and a local service and repair facility, so we can back up our locally made products".
Looking to the future, Alf says Durst is very interested in electric vehicle technology but conceded that it is hard to predict when it will become a significant industry in Australia. 
"In the next three-plus years most councils' fleets will comprise 50% electric vehicles and all will require some sort of charging facility within the council depot. And that's where I see someone like Durst coming along and engineering a solution for each depot," he said.
And joining him on that journey will almost certainly be St.George Bank, which has advised and supported him and his partners through the process of acquiring Durst and buying and fitting out the new premises over the past couple of years.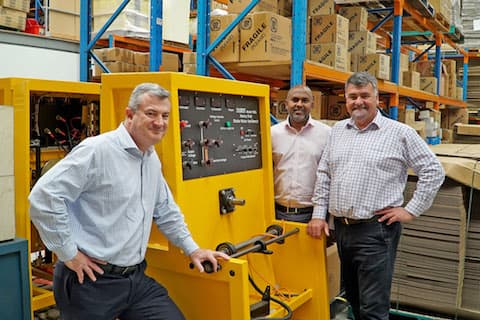 Alf has nothing but praise for the team at St.George Bank. "What I like about St.George Bank is that they have a manufacturing industry focus. It gives me reassurance that they understand the challenges and issues that a local manufacturing operation such as Durst faces and gives me comfort that we've got a good support structure behind us.
"I can't complain about the services and the service that we continue to receive. I don't think there's been anything left wanting." 
Alf said that Durst still uses the bank for day-to-day banking, foreign exchange, merchant facilities, property debts and leasing. 
St.George Bank's Matthew Kelly, Head of Manufacturing and Wholesale, said Alf had taken Durst to a whole new level, with a growing export market. 
"We originally got involved when they acquired the business and we helped provide the acquisition funding. That is one of our specialties, helping people acquire businesses. We also help businesses grow through further acquisitions; we have a really good track record of that," said Matthew.
"We sat down with Alf and his partners and had the expertise to put the right structure in place for acquisition and to allow funding for expansion into new premises and fit out etc. 
"There's always various options for people to acquire businesses; it's about getting the right balance," he continued. "There is private equity, private funds, a whole lot of options out there, but I guess the important thing is partnering with an organisation that understands the industry, which is why we have got the industry model at St.George. 
"It's important to work with a group of bankers that understands how to do acquisition funding. One of the things that is different about St.George is that while we have that expertise we are not segmented like other banks. We've got businesses that turn over $10 million and businesses that turn over a billion dollars. So it's really diverse in terms of scale. You get that real depth of relationship and depth of experience to be able to cater for anything.
"The only other thing I'd say about the services that we're providing is that Alf is now attending the Western Sydney Manufacturing LAB events that we put on, which is a thought leadership event for the exchange of ideas, experiences, making connections and accessing services that could lead to strategic new working partnerships. We introduced him to one of our partners, William Buck, for a free R&D review, which we are currently organising. We have also partnered with Coleman Greig who will come and do free end-to-end legal reviews. 
"So we are always looking to add significant value outside the core banking arrangements," concluded Matthew.