Durable new Enerpac EBC-Series cordless bar cutters slice through downtime and hazards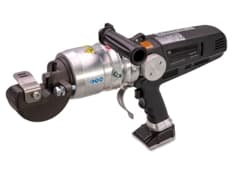 Slicing through metal bar can present safety risks, including the potential for injury from the blades or sparks, not to mention the trip hazard of the power cord to the tool itself.
To heighten the safety of rebar and metal bar cutting, common to so many building, construction, infrastructure and fabrication applications, global hydraulic tool leader Enerpac is introducing its EBC-Series Cordless Bar Cutters.
The new EBC-Series can effortlessly slice through up to number 6 rebar, or similar metal bar up to 20mm in diameter, including material hardness up to 43 HRc (Rockwell measure). The cutters are powered by an 18V Lithium-ion battery for additional portability, long lasting performance, and the removal of trip hazards.
"The new EBC-Series cutters have been designed around worksite safety and minimising risk of trips and other injuries. They're also ideally suited to remote locations or sites where an external power source is not available," said Mr Antony Cooper, Product Engineer and Asia-Pacific Marketing Manager, Enerpac.
"A safety guard on the cutters protects the user's hands from injury, and a highly durable cutting head can be rotated 360 degrees to aid in the positioning of blades on the application," Mr Cooper said.
Weighing just 8.7kg by itself (or 9.2kg with battery attached), the new EBC-Series cutters are built with highly durable blades to maintain effectiveness throughout rigorous use. The tool's lifting handle enables easy positioning and transport around the worksite.
A piston-release mechanism allows the blade to be reset, providing a controlled cutting process and reducing jamming.
"For many rebar and metal cutting applications, the user will be cutting large amounts of metal into the appropriate size. The new Enerpac cutters are designed to maximise uptime and deliver consistent performance throughout the job," Mr Cooper said.
The new EBC cutters complement Enerpac's comprehensive range of advanced hydraulic, electric and manual cutting technologies, including EBH Hydraulic Cutters, EBE Electric Cutters, EDC Decommissioning Cutters, ECC Chain Cutters, EFB Flat Bar Cutters and EWC Wire and Cable Cutters, as well as WHC, WHR, WCB and STC cutterheads in capacities from 3-20 tons. All are backed throughout Australia, New Zealand and Papua New Guinea by Enerpac's comprehensive service and technical support network, optimising their uptime and safety in service even in aggressive conditions and remote locations.
Enerpac's comprehensive range of cutting tools complements the global high pressure hydraulics market leader's comprehensive ranges of lifting cylinders, pumps, pullers, presses, control technologies and professional bolting technologies, offering a one-stop shop for high performance industrial tools and solutions throughout Australia, New Zealand and Papua New Guinea. The tools are designed to Enerpac's global standards of safety, Standards compliance and performance precision and traceability.