DUAL-BAND WIRELESS SYSTEMS-ON-CHIPS FOR IOT APPLICATIONS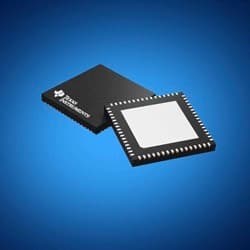 Mouser Electronics stocks CC3235x SimpleLink dual-band wireless systems-on-chips (SoCs) from Texas Instruments. Integrating a high-performance application processor, network processor and crypto engine in a single chip with a rich set of peripherals, these chips are ideal for a wide range of IoT, building automation, security and health care applications.
The chips provide a network processor to run all Wi-Fi and internet logical layers. The ROM-based subsystem completely offloads the host microcontroller and includes an 802.11a/b/g/n dual-band 2.4GHz and 5GHz radio, baseband and MAC with a powerful hardware cryptography engine. They feature new capabilities that simplify the connectivity of IoT applications. These features include 802.11a (5GHz) support, Bluetooth Low Energy and 2.4GHz radio coexistence, antenna selection, enhanced security with FIPS 140-2 Level 1 certification, up to 16 concurrent secure sockets and a certificate sign request.
They are available in two variants: the CC3235S and CC3235SF. The CC3235S incorporates an Arm Cortex-M4 microcontroller with 256Kb of RAM, IoT networking security and device identity/keys. The CC3235SF builds on the CC3235S and adds a user-dedicated 1Mb of executable Flash in addition to the 256Kb of RAM. Both variants offer microcontroller-level security features such as file system and user IP (microcontroller image) encryption, secure boot and debug security.
They are supported by Texas's LAUNCHXL-CC3235x LaunchPad development kit, which includes either a CC3235S or CC3235SF chip, and features onboard emulation and sensors for a full out-of-the-box experience and rapid development. The board's 40-pin LaunchPad pinout enables designers to incorporate add-on boards from the BoosterPack.
Mouser Electronics
+852 3756 4700
au.mouser.com