DRYERS CLAIM NEW STANDARDS IN COMPRESSED AIR SUPPLY
13-06-2017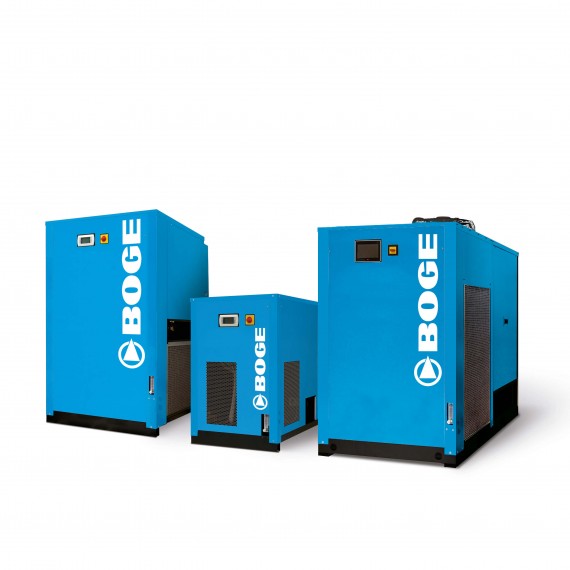 The FRDA tandem dryer combines the advantages of refrigeration and adsorption dryers
BOGE reckons its new DS-2 and FRDA dryers set new standards in the provision of moisture-free compressed air. The DS-2 refrigeration promises energy savings of up to 30% thanks to its high flow capacity. And the FRDA tandem dryer combines the advantages of refrigeration and adsorption dryers to benefit sensitive applications with pressure dew points between –70 and +3°C.
The DS-2 refrigeration dryer is specified for a residual moisture content of up to 6g/m3. It features a new design of fully integrated aluminium heat exchanger that reduces both power losses in the refrigeration cycle and the quantity of coolant required.
Its digital control system includes an isolated alarm contact that gives an immediate alert if operating conditions such as the pressure dew points move into the critical range. Models from 2.6m3/min are available with an optional energy-saving function that further reduces power consumption under partial load operation.
The FRDA tandem dryer is the first unit from BOGE to combine both refrigeration and adsorption technology. The combination of the two proven drying processes enables a high level of energy efficiency and flexibility, and provides a residual moisture level as low as 0.003g/m3, regardless of seasonal temperature fluctuations.
The FRDA is also a very compact machine design, making it suitable for container installations and where little space is available. It also has very low maintenance requirements.
BOGE Compressors (Australia)
03 5940 3266
www.boge.com.au