A drum bund is more than just a piece of plastic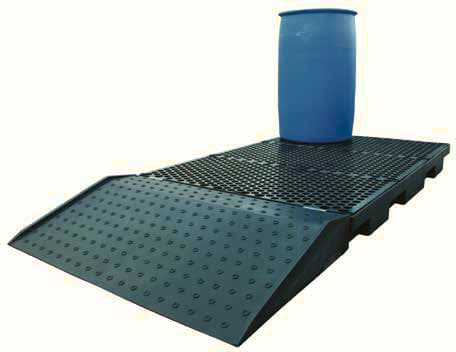 An increasing number of quality issues associated with drum bunds, IBC bunds and spill pallets are catching unsuspecting buyers off guard.
When bunds do not meet basic strength and UV resistance standards required for Australia's harsh conditions and tough work environments, the potential for an oil or chemical spill escalates dramatically.
With quality and fit-for-purpose in mind, the following guidelines will help you find the best drum bund or spill pallet to ensure your workplace is incident free:
Check where the product is made
Many products sold in Australia are from overseas manufacturers, some of which are not suitable for Australian conditions.
Is the product Australian Made?
Make sure the manufacturer is experienced, has a long history of manufacturing these products and does not cut corners.
Ensure that the bund is made from an appropriate material 
100 percent polyethylene bunds are the most suitable for our climate and the rough and tough treatment they encounter. An increasing trend in an attempt to lower production costs is to use foaming agents, which lower the amount of polypropylene used to make the bund. The result is substantially reduced impact strength and a much more brittle product which will crack or chip very easily with even the slightest knock.
Ensure the material used to make the bund is UV Stabilised and of a suitable colour
It would be unlikely the raw material used to make a bund would not have a UV stabiliser added. However, the more carbon contained in the material the better the UV stability.
Black material is by far the best colour to make a bund as it has a much higher carbon content than any other colour. The pigments added to natural polyethylene to create colours often require additional chemicals to stabilise the colour. Some colour stabilisers such as phthalocyanine cause stress and distortion in the material, which results in collapsed bunds. Blue and Green pigments generally require more colour stabilisation than do other colours.
Check the weight of your bund
As a general guide, heavier bunds are stronger as they contain more plastic 
Check that your bund has been tested for structural and weight bearing characteristics
A good quality bund will have been tested in a NATA accredited lab. The UDL (Uniformly Distributed Load) should be readily available.
Check that your bund contains no less than 110 percent of the largest container on the bund
Bunds made to Australian Standards require the bund contain 110 percent of the largest container held on the bund. If the bund is undersized for the container, place the container on a larger capacity bund. For example a 1000L IBC will fit on a 4 drum bund which is only designed to contain approximately 220L being 110 percent of a 200L drum. The IBC should be placed on a bund capable of containing a minimum of 1100L.
Check the compatibility of the bund and the liquid being stored
Typically, 100 percent polyethylene is compatible with most oils, fuel and industrial chemicals
Check if your spill pallets can be aggregated to form a large work platform
To create a large platform from a number of bunds they must be able to be securely locked together for strength and to aggregate the containment capacity to meet the 110 percent largest container requirement.
Only buy ancillary equipment (e.g. bund covers, filter bags) that has been matched to the bund For example, a bund cover is designed to neatly fit over a bund holding drums and partly down the sides so that the bund will not fill with water when it rains. In cases where it is a matter of quality over price, it is rarely a good idea to choose the cheapest option as this could very well cause rain to fill the bund with a loss of containment capacity.
Global Spill Control supplies a comprehensive range of environmental products, including drum bunds (Bunded Spill Pallets) and Bulk Container Bunds (IBC Bunds).
These are important for maintaining a safe workplace, and for ensuring youmeet EPA regulations. 
Global Spill Control drum bunds can come in a 4 Drum Bund, 2 Drum Bund, 3 Drum Bund, 6 Drum Bund, 8 Drum Bund and a Bulk Container Bund or an IBC Bund.
Both Low Profile Drum Bunds (Bunded Spill Pallets) and Standard Drum Bunds are also available.
A proud Australian Made supplier, Global has offices in Melbourne, Sydney, Tuggerah (NSW), Brisbane, Townsville, Adelaide, Burnie (TAS) and Perth as well as a large network of distributors  and resellers throughout Australia and New Zealand.
Over 95 percent of its products are manufactured in-house, ensuring strict quality control, swift dispatching of orders and competitive pricing.