Published 01-12-2020
| Article appears in February 2021 Issue
A drone-integrated metal detection system courtesy of UgCS Industrial Solutions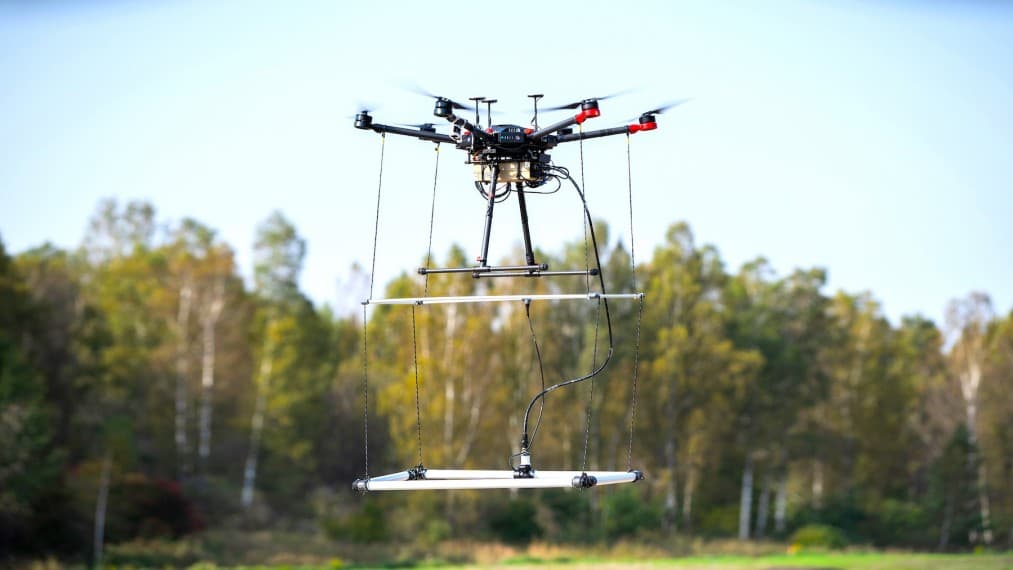 SPH Engineering announces the launch of a drone integrated metal detection system with a Geonics EM61Lite metal detector, a new product of UgCS Industrial Solutions.
The same performance and robustness available for users of the standard EM61-MK2 time domain metal detector are now available for airborne use - to find metallic objects in hard to reach or dangerous areas.
The new system is capable of detecting metallic (magnetic and non-magnetic) items in the first few meters under the surface. It could be applied for many applications, including UXO search, detection of underground infrastructure and archaeological needs.
The integrated system has been extensively tested at SPH Engineering's test range, and has shown excellent performance and repeatability for targets such as pipes (steel, stainless steel, reinforced concrete) as well as steel drums.
SPH Engineering says experimentation have been undertaken the last 3 years with different metal detectors.  But while tested, the majority of devices did not work properly.
The new sensor works in full compliance with manufacturer estimates: airborne (lightened) modification of the proven Geonics EM61-MK2 metal detector.
It is now possible to integrate the EM61 with  UgCS SkyHub onboard computer and ground control station.
The fully integrated solution - starts with unified mission planning in industry-standard UgCS mission control software and includes features such as automatic data logging in geotagged form and automatic terrain following with radar altimeter.
The integration of EM61-MK2 sensor for UAV-based deployment has been a concept of interest for some time. 
SPH Engineering (sph-engineering.com) is the world's premier UgCS software developer and integration services provider for unmanned aerial systems.
Its developed UgCS, UgCS CC, UgCS Mapper, ATLAS, Drone Show Software, and Industrial Integration Solutions for UAV with Echo Sounders, Ground 2 Penetrating Radars (GPR), Methane detectors, and Magnetometers, enriched with radar/laser altimeters, are applied across a wide range of industries worldwide.