DRILLING DOWN INTO AUSTRALIA'S PAST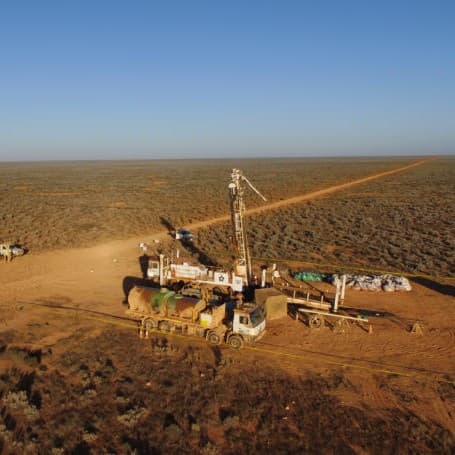 Mineral explorers and researchers from around the world will gain an unprecedented look at rocks from deep below the world-famous Nullarbor Plain.
The Geological Survey of South Australia (GSSA ) will display 12 trays of drill core rom the South Australian Government's $3 million PACE Copper Coompana Drilling Program at its annual Discovery Day conference.
The second annual Discovery Day precedes the South Australian Exploration and Mining Conference on Friday where active mineral explorers and miners will present technical updates of their mines and exploration projects at the Adelaide Convention Centre.
The Copper Coompana Drilling Program ran from April to September in the far west of South Australia.
The display of drill core, along with the release of drill logs and downhole geophysics from the eight-hole program, is keenly anticipated because so little is known about the geology and mineral prospectivity below the Nullarbor Plain.
GSSA Director, Dr Steve Hill, said a lack of outcrop and perceptions of a thick limestone cover sequence had deterred mineral explorers for decades in the far west of South Australia, known as the Coompana Province.
"It is one of the least explored places on the planet. Before our program, the most recent drill hole was in 1982, and fewer than 10 holes had ever intersected the basement in an area of more than 100,000 square kilometres."
"But the real shame is we had a number of reasons to believe the Coompana Province could be highly prospective for copper. There were just too many unknowns for mineral explorers, so we launched the Coompana Drilling Program to reduce the risk and encourage private investment," Hill said.
For both the GSSA and Geoscience Australia, there were also fundamental questions still to answer about how the Australian continent was formed.
While the processes the formed most of Australia are increasingly well understood, there is a huge knowledge gap about the tectonics of the basement rocks that connect South Australia and Western Australia.
There was also curiosity about a 50km-diameter magnetic feature known as the Coompana anomaly, which has the neatly circular appearance of large meteor crater, but could have several causes of origin.
GSSA Principal Geologist, Dr Rian Dutch, said it would take time to analyse the rich new vein of data from the recently-completed drill program, which recovered more than 1.5 kilometres of core from the basement.
"The results released at Discovery Day will be just the first of many reports and interpretations to be released over the next 18 months. But the program has already busted the myth that thick limestone cover makes the basement rocks beneath the Nullarbor Plain too deep to explore," Dutch said.
"The cover thickness encountered by the program ranged from only 252 metres to 445 metres. Furthermore, depth-to-basement models developed by the CSIRO and Geoscience Australia before drilling began proved accurate, so we can be confident that much of the Coompana Province is at an explorable depth. That is big news because the perception of thick cover has been a major deterrent for mineral explorers."