DOW SEPARATES, POSITIONS FOR GROWTH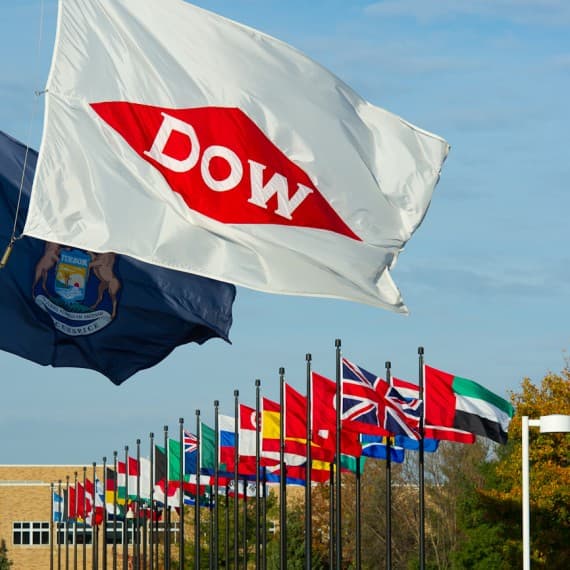 Dow has successfully completed its separation from DowDuPont, and launches with global scale and leading positions in three attractive consumer-driven segments: packaging, infrastructure and consumer care. Dow is now even better positioned to drive revenue growth and innovate for its customers, leveraging three advantaged building blocks – ethylene, propylene and silicones – to power one of the biggest chemicals portfolios in the industry.
The distribution of Dow common stock was completed after the market closed on 1st April, with each DowDuPont stockholder of record receiving one share of Dow common stock for every three shares of DowDuPont common stock held at the close of business on 21st March. DowDuPont stockholders will also receive cash in lieu of any fractional Dow shares. Dow common stock began trading on the New York Stock Exchange under its historical symbol DOW on 2nd April, and will join the Dow Jones Industrial Average index.
"Today marks the beginning of a new and exciting chapter for Dow," says CEO Jim Fitterling. "The changes we have made to Dow's portfolio, cost structure and mindset are significant. The new Dow is a more focused and streamlined company with a clear playbook to deliver long-term earnings growth and value creation for all stakeholders. Team Dow is well positioned to achieve our ambition of becoming the most innovative, customer-centric, inclusive and sustainable materials science company. We have all the tools in place to innovate more quickly, to operate more productively, and to invest more prudently to deliver value creating growth, higher returns and enhanced shareholder value."
"Today we celebrate this milestone with our customers, communities, investors and Team Dow," says President and CFO Howard Ungerleider. "With our focused portfolio, streamlined cost structure, disciplined approach to capital allocation and shareholder-friendly capital return framework, the new Dow has the right capabilities and team to drive best-in-class operating and financial performance."
The new company will be known as Dow, acknowledging a remarkable legacy while also reflecting a company-wide evolution to a materials science solutions provider. Dow is adopting a new slogan "Seek Together", which is a call to action that highlights the value of collaboration to deliver innovation and solutions to its customers and value chains. It represents the way Dow seeks to collaborate with all of its stakeholders as it delivers on its ambition. The iconic Dow diamond, which has stood as the company's logo for more than 120 years, is unchanged and will continue to be a core element of the Dow identity.
Dow has been present in Australia and New Zealand since 1959, and now has five main locations, including two manufacturing sites at Altona and Geelong, serving customers in the consumer care, infrastructure and packaging industries. Across Asia-Pacific, it operates 20 manufacturing sites in 10 countries, and delivered pro forma net sales of $9.5 billion in 2018.