DOUBLE TOOL LIFE WITH NEW MILLING CUTTER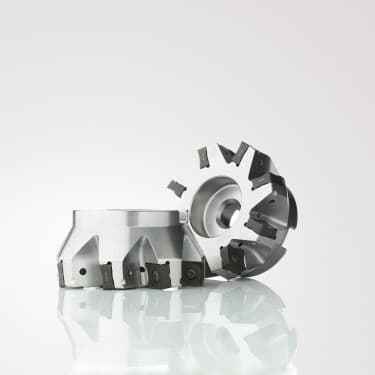 The new R220.88 face milling cutter family from Seco Tools features optimised geometries and eight cutting edges, lengthening tool life and reducing cutting forces. 
The cutter body's 88-degree lead angle allows for large depths of cut with smaller insert sizes than 45-degree lead angle face mills. Its design also allows the new cutter to machine closer to workpiece side walls, as well as working around intricate clamping setups. 
Designed for roughing and semi-finishing applications, the R220.88 is ideal for machining cast iron and steels in the general machining and automotive segments. The cutter body is made of Idun material, a corrosion resistant stainless steel that offers longevity and durability along with being environmentally friendly due to the elimination of the nickel coating process.
The cutter body is available in diameters ranging from 50 to 160mm on the size 12 insert and 63 to 160mm on the size 16 insert. Each diameter is offered with a standard pitch variant and a close-pitch variant to provide the best match to customer needs.
The Size 12 R220.88 achieves a maximum depth of cut of 9mm, while Size 16 reaches an impressive 13mm maximum depth of cut. Right-hand versions of the cutter body are standard with left-hand versions available on special order, allowing integration into systems with dual spindles performing simultaneous milling operations.
The R220.88 is compatible with Seco's SNMU inserts, which are secured with a center lock or screws, eliminating the need for wedges to secure the insert in the pocket. The eight cutting edges on these inserts offer double the cutting edges over four-edged inserts to help reduce tooling costs.
With its neutral design, the SNMU insert can be applied in right-hand or left-hand milling applications.
Available insert geometries include M10 and MD13 for size 12 and MD10 and MD16 for size 16, with an insert grade offering that includes MK1500, MK2050, MP1500, MP2500, MS2500 and F40M. An integrated wiper flat ensures a good surface finish for semi-finishing applications, and optimised geometries for reduced cutting forces with the M10. The heavy edge protection with the MD13 and MD16 inserts are ideal for difficult face milling operations, such as interrupted cuts.
For more information on Seco Tools' face milling solutions, contact a local Seco representative or visit their website shown below.
Seco Tools Australia
1300 557 326
www.secotools.com/au