Published 05-11-2019
| Article appears in November 2019 Issue
DOSING SYSTEM PUTS WATER TREATMENT ON THE SKIDS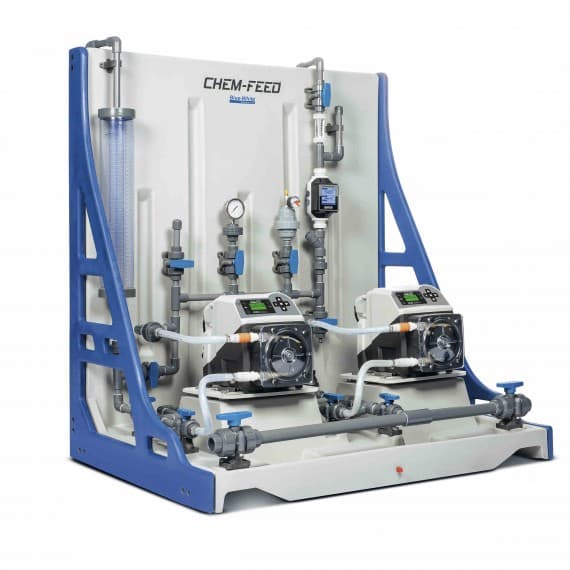 Toolkwip Pumps now offers a skid-mounted dosing system that will seriously reduce both the setup time and costs associated with installing water and wastewater treatment systems.
The ProSeries Skid Systems are designed and manufactured in the USA by Blue-White Industries to complement the company's renowned Flex-Pro series digital peristaltic dosing pumps and Chem-Pro series digital diaphragm dosing pumps.
The skid units are manufactured from chemical resistant polyethylene, making them very durable, while also being lightweight and aesthetically pleasing. And the inclusion of leak-free threadless connections and built-in spill containment makes this a truly environmentally friendly dosing package.
All skid units include a pressure relief valve, check valve, flow indicator, calibration cylinder, pulsation dampener and pressure gauge as standard items. They are currently available in both single pump and dual pump configuration and can be customised to include all necessary valves, sensors and flow meters to suit specific applications. They can also be set up in bays of multiple skids together catering for all sizes of treatment plants.
Applications for these systems include: chemical metering, chlorination, fluoridation, flocculants, polymers, caustics and much, much more.
ProSeries Skid Systems, along with the Flex-Pro and Chem-Pro pumps, are distributed in Australia by Toolkwip Pumps, which holds large stocks of pumps and parts ready for immediate dispatch.
Toolkwip Pumps
03 8805 0500
www.toolkwippumps.com.au