DOORS MAINTAIN CLIMATE CONTROL WITH A GENTLE EDGE
29-06-2017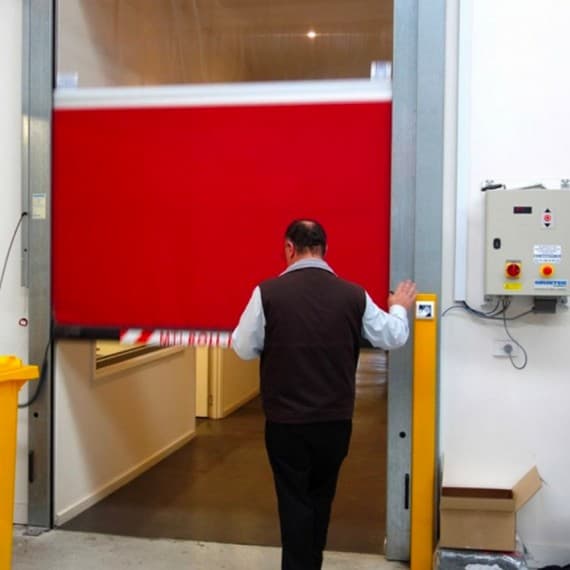 Doors are an important part of any food-processing facility, playing a critical role in maintaining hygiene and climate control, and M.T.I. "See-Thru" will be emphasising these aspects at foodpro.
Visitors to stand P4 will see no fewer than six full-size industrial doors in operation, for example Roll Fast Doors, Insulated Sectional and Insulated Traffic Doors.
The foodpro event will see the first outing for the all-new M.T.I. Softedge Internal Roll-Fast door, a novel door design that provides rapid traffic access while minimising heat losses between different climate control zones. With an opening speed as fast as 2m/s and closing speed of 0.8m/s, these Roll Fast doors spend minimal time in the open position.
Importantly, the Softedge door curtain is made without any rigid pieces, making it safer for use by equipment and personnel. And, should an impact occur, for example with a forklift, the doors are self-repairing, with the curtain automatically guided back onto its track on the next closing cycle.
Also for internal use, M.T.I. "See-Thru" Insulated Traffic Doors provide a rugged long-lasting solution to maintaining climate control, even in cool rooms. With a rigid PVC framework, high impact ABS plastic skin and full perimeter rubber gasket, these doors spring back closed as soon as traffic has passed through.
These doors come with spring impact bumpers or flat impact panels to help cushion the impact of forklifts and pallet trucks.
Completing the display on stand P4 at foodpro, M.T.I. "See-Thru" Industrial Sectional Doors are available in sizes up to 8m high and 8m wide, and provide maximum thermal insulation for large external openings. They are also guaranteed to survive winds up to 200km/h and water spray at up to 30Pa pressure.
M.T.I. See Thru
1300 135 539
www.mtiqualos.com.au