Don't wait for dollar to fall, Combet warns manufacturers
31-08-2010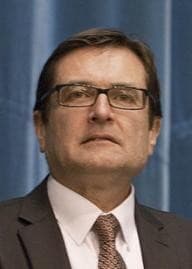 Greg Combet … 'adapt or sink'
Minister for Industry Greg Combet says manufacturers should not sit back and wait for a fall in the Australian dollar – they must change with the times or risk failure.
Mr Combet's warning, reported by The Australian newspaper, comes on the eve of Labor's much-anticipated industry and innovation statement, to be released next month.
Under sweeping new Government changes aimed at boosting the manufacturing sector, a new body will be created to monitor major project developers' use of Australian manufacturing products.
The statement will also unveil a program to link university research more closely with boosting technological advancement in the nation's industrial sector.
Mr Combet warned manufacturers the high dollar was "here to stay" and that "the economy has to adjust to the reality of a higher dollar."
Speaking to The Australian, Mr Combet said business plans that were adapted with an Australian dollar averaging between US60c and US80c would have to face the reality that the dollar at or above parity with the US dollar was now the norm.
Mr Combet said the innovation statement would underpin Australia's open market-based economy and it was pointless to look back to past days of protectionism.
"We are at a time of quite significant structural change in the economy," he told the Australian. "The high dollar is driving a lot of change and . . . in manufacturing in particular, business models have got to change in the economy.
"From the government's point of view, the high dollar is going to be around for a considerable time to come, so businesses are going to have to adjust.
"We've seen the effects of it, it's been very tough in some industries like aluminium . . . and the government made a number of steps to try and support structural adjustment in industries like steelmaking."
The high dollar, which has been trading above .05 in recent days, makes it more difficult for manufacturers to compete in international markets and with imported products.
Mr Combet said the key to making industry more competitive was to boost productivity. In the broader economy this involved investment in skills, higher education, infrastructure and cutting the emissions intensity of the economy. But he said a fundamental element of the innovation statement would be facilitating investment and the development of new technologies.
"Industries and businesses that succeed are going to be those that develop new technologies, new processes, that innovate, that apply technology to their manufacturing processes for example," he said.