Published 22-04-2021
| Article appears in April 2021 Issue
Don't forget the 30 April deadline for JobMaker youth hiring scheme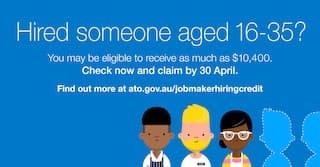 The economic recovery is going better than most dared to hope, with over 300,000 new jobs created since October 2020.
But while the outlook is positive, we're not out of the woods yet.
One issue to watch is the impact of the conclusion of major stimulus and industry support measures such as JobKeeper in March.
With JobKeeper off the table, the focus is shifting to other employment support options.
The government's $4 billion JobMaker Hiring Credit is still on the table. JobMaker is an incentive for businesses to employ young job seekers who are coming off unemployment benefits.
On offer is up to $10,400 per year for each new job an eligible employer fills from 7 October 2020 to 6 October 2021 with an eligible person aged 16-29. Up to $5,200 a year is available for eligible employees aged 30 to 35.
It's a sensible policy. The youth unemployment rate sits at 11.8%, over six percentage points above the adult rate. Helping businesses hire these young people is a win-win.
Claims for the first JobMaker period must be submitted by 30 April 2021. This period ran from 7 October 2020 to 6 January 2021.
There are some catches. For example, businesses have to show that the subsidised jobs increased their employee headcount and their payroll above September 2020 levels.
Australian Taxation Office Deputy Commissioner James O'Halloran has encouraged Australian businesses to remember the 30 April deadline and make eligible claims.
"I encourage all employers to see if they qualify for the scheme, and if eligible, claim the JobMaker Hiring Credit payments," Mr O'Halloran said.
"Employers who want more information can go to www.ato.gov.au/jobmakerhiringcredit or contact their tax or BAS agent," he said.