Don't chuck away a time-saving advantage
31-08-2010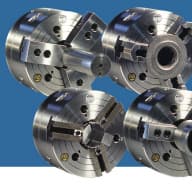 In today's highly-competitive industrial markets, downtime is the curse of engineering workshop managers.
Whether caused by an unreliable "El Cheapo" machine or the period between set-ups, no-one likes to see productive machines standing idle.
Even small improvements in productivity can mean more customers, more successful quotations, and more profit.
According to the managing director of 600 Machine Tools, Cliff Purser, this has caused many workshop managers to leave behind the "we've always done it that way" philosophy to looking clinically and analytically at new technology and methods being employed by profitable companies around the world.
"Slow changeovers are the bane of every workshop manager's life and result in reduced margins, and contracts that should yield a profit causing a loss, Mr Purser said. "There has to be a better way."
An aspect of set-ups that has long caused problems is jobs requiring the use of a chuck. At the renowned EMO exhibition in Hannover last September, Mr Purser said workshop manager from all over Europe made a beeline for demonstrations of the Gripfast combination power chuck by fellow 600 Group company, Pratt Burnerd.
"They could immediately see the time-saving advantages provided by the new design," he said. "Many were surprised when they saw that the Gripfast combines a chuck, a collet chuck, and a mandrel chuck in a single unit."
"However, I am not surprised to find that, around the world, this remarkable device is being welcomed in workshops with CNC turning centres, because it enables operators to increase productivity and achieve minimal non-machining time."
Mr Purser explained that 600 Group members were among the users clamouring for the Gripfast, because it is now being fitted, as standard, on Colchester Lathes' new Tornado CNC production turning centres, ensuring high speed, high-accuracy turning, with rapid component changeover.
He noted that the new chucks are supplied with a duplicate set of master jaws and simple off-machine jaw setting fixture, enabling the jaws to be pre-set off the machine, and ensuring a changeover time of less than one minute through the world renowned High Speed Quick Change jaw feature.
Mr Purser said: "This design breakthrough can result in an estimated time-saving of 95 per cent over other power chucks, and can give payback in less than six months."
The installation engineer at 600 Machine Tools, Pat O'Doherty, provided some supplementary information to assist workshop managers in evaluating the new chuck, which has only recently become available in Australia.
The design team at Pratt Burnerd in West Yorkshire has ensured that the Gripfast quickly converts to a collet chuck, with the master jaws accepting a comprehensive range of standard or special collet pads.
The company's popular Setrite feature is incorporated, as standard, into the chuck body, allowing ultra-high adjustment accuracy of either jaws, collet pads, or mandrel – a feature that is sure to bring a smile to the face of every user's QA manager.
With optional large through-bore capacities, the flexible newcomer can be supplied to fit all makes and models of CNC production lathes, utilising the existing machine's chucking assembly.
Full size master jaws allow use of standard top tooling without the rpm reduction rivals require.
The chuck's unique counter balance feature negates centrifugal force effects, ensuring constant gripping force and 90 percent jaw force at maximum operational speed of up to 6000rpm.
This compares to most other power chucks in its class that maintain only 33 percent of gripping force using standard top jaws.
As with all chucks in the Pratt Burnerd range, the sturdy Gripfast is built to toolroom standards – ie. exceptionally high accuracy – and is engineered in England for safety, reliability, and durability
Mr O'Doherty added: "The Constant Grip feature makes it possible to grip thin-wall components by reducing chuck pressure because the chuck maintains jaw-force at high speed.
"This feature is proving to be a boon for a major manufacturer of helicopters, a user that changes workpieces several times a shift and has a wide library of components.
"The workshop has several Gripfast chucks, and more than 90 additional sets of base jaws so that the machined gripping-jaws can be left attached to the base-jaws to avoid having to re-machine soft-jaws," he explained.
This multinational company welcomed the safety aspects, too – absolutely essential in a fiercely-competitive engineering market that is seeing a trend towards ever-faster cutting speeds.
Australian users are now able to order the Pratt Burnerd radio-frequency Gripmeter, an instrument that has the facility to transfer measurements to a PC for analysis, presentation, and storage, and ensure the strict OH&S standards are met,
Mr Purser said a full range of standard sizes from 165mm-800mm is now available with large bore availability. This gives Australian users a measurable advantage in time-per-component and operational flexibility.
He advised workshop managers to view a Gripfast video now available on YouTube, which was filmed at EMO 2013 in Hannover.
"A digital clock is on screen throughout the demo, and it rapidly becomes crystal clear exactly how much time can be saved," Mr Purser said.
And now available via e-mail is a calculator that takes data supplied by the prospective user and calculates the cost-difference between standard power chucks and the Gripfast for (a) the cost of changing jaws, and (b) the cost of removing a power chuck and fitting a collet chuck.
"Again, the benefits cannot be missed," Mr Purser said.
After the launch of the Gripfast combination power chuck last September, orders initially came from all over Europe and, remarkably, are now being supplied to European workshops via some of the world's most famous manufacturers of machine tools for precision turning.
Mr Purser said: "Blue-chip names from Europe, the US and Japan are now offering this world-leading chuck as standard equipment – or as an option – on their own machines. Quite a compliment to the Pratt Burnerd design team in Heckmondwike.
The products of Pratt Burnerd and other 600 Group products are exclusively marketed and supported throughout Australia by Sydney-based 600 Machine Tools.