Don't choose a new pump until you've read this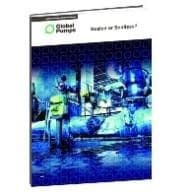 Choosing which type of pump to use can be a daunting process given the variety of pumping technologies in today's market. 
Careful examination of the all factors involved can help you make the right choice. 
The primary consideration must be the pumping application. 
Here are the main differences between traditional "sealed" pumps and so-called "seal-less" pumps: 
The definition of a seal-less pump (The Hydraulic Institute, Parsippany, NJ) is one in which "the impeller shaft is completely contained in a sealed, pressurized vessel (called the containment shell) that contains the process fluid." 
The process fluid is prevented from getting out of the pump by static, rather than dynamic seals. Magnetic drive pumps fall into this category. 
In this case, the pump's drive shaft turns a secondary "driven" shaft, the impeller shaft, by means of a magnetically coupled system. 
Sleeve bearings on the driven shaft perform the equivalent function to the dynamic primary seals used in traditional sealed pumps. To choose between a sealed or seal-less pump design, you must understand the economics involved as well as the technologies used.
Global Pumps has produced a comprehensive complimentary White Paper that reveals the stark differences between Mechanical sealed pumps and Seal-less pumps.
It's a must read for anyone who is in the market for a new pump.
Global Pumps
08 8275 8000