DNV Approved Pump
17-05-2012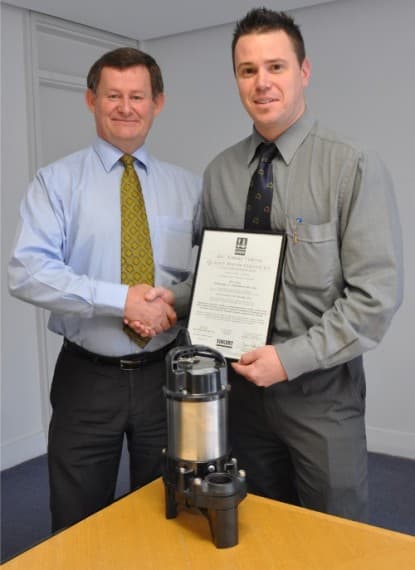 Aussie Pumps' Craig Bridgement and Ewan Docherty with the Tsurumi TM series salt water pump that has DNV approval. 
Australian Pump has announced successful DNV approval on Tsurumi Pump Titanium TM series sea water submersible pumps. Manufactured by Japan's largest submersible pump company Tsurumi, the TM series is perfectly suited for salt water pumping including circulating seawater in live fish holding tanks, waste water transfer and even bilge pump out.
Tsurumi's TM series of pumps are made from moulded resin with the internal wetted parts manufactured from Titanium. The pump is particularly suited to pumping salt water and aggressive liquids. 
"Obtaining survey approval on the first model is a huge step forward. It's an indicator that the whole series will pass," said Aussie Pumps Product Manager Craig Bridgement. "The DNV certification provides clear evidence that the product is world class and suitable for commercial or even military marine applications," he said.
The TM series are available with 1 ½" & 2" discharge bores with either single or three phase two pole motors up to 0.75kW. They are available in 50Hz or 60Hz configuration and in both 110 volt and 220 volt versions in single phase. In three phase voltages available include 230v, 415v and 440v.
The pump's vortex impeller is made of fibreglass reinforced resin. This type of impeller passes small solids in suspension through the pump without causing damage or the risk of clogging. 
These super tough, lightweight, pumps have a proven track record for long life in both continuous and intermittent sump applications. The two float version can detect when the water level is sufficient to require activation, and also switch off when the required level is achieved, thus saving power.
These smart little pumps produce heads to 12 metres and have a maximum flow rate of 350 litres per minute (2100 litres per hour.) The pumps can be used for salvage of yachts and pleasure boats as well as for bilge sump pump out.
"These great DNV approved pumps are suitable for a wide range of seawater applications that include aquaculture research, bilge pump out, recirculation and deck wash down," said Bridgement. The TM series have been used at James Cook University in Townsville as part of their research into the coral reef.
Further information on the complete range of Tsurumi submersible pumps is available on the Australian Pump website (
www.aussiepumps.com.au
) and from Aussie Pump Distributors throughout Australia.