DMF'S IMPACT TRAFFIC DOOR DOESN'T MAKE A SOUND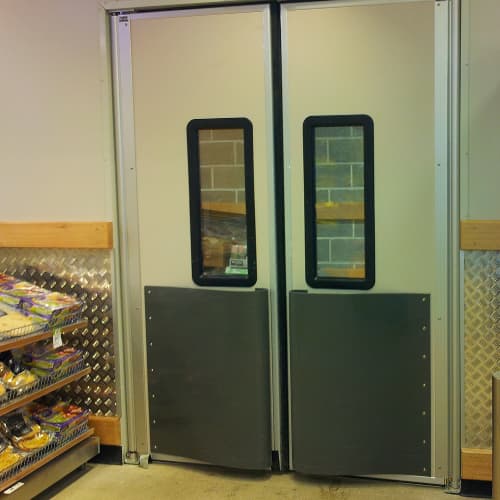 High trafficked doorways usually require strict control of complicating factors such as temperature, noise, and dust.
Thankfully, DMF has a solution with the DMF high-impact traffic door.
DMF International is a Sydney based company, and manufacturer high impact swing doors.
Each DMF Traffic Door is custom made to suit specific needs, and is constructed from 40mm thick panels, made from a compressed foam which provides thermal and sound insulation. The surface finish is a tough ABS which can be coated in any colour to suit your décor.
To ensure saftey a double glazed polycarbonate window is fitted, and optional bumper types are available to ensure a highly durable product for busy openings.
A brand new option for the window is now available, being an internal venetian blind, set between the glass and with external control to open and
close.
The doors can be crashed through from either side, and swing 180 deg, with automatic closing by a concealed spring action which has variable toque control.
They are also quiet in operation, and are designed for heavy use applications, such as supermarkets, trading areas, hospitals, commercial kitchens and processing areas.
Major clients of these doors include Woolworths, Coles, Aldi, and some major hospitals.
DMF International
1800 281170
www.dmf.com.au