DMF on a roll with new high speed doors
31-08-2010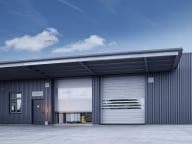 Don't blink … the high speed PVC roll door
The high speed PVC roll door is an ideal way to control temperature and dust in food and warehouse applications.
These doors generally accommodate openings up to about 6m high and 6m wide before potential wind pressures can limit their effectiveness. 
Certainly PVC roll doors can be fitted to larger openings, but with a compromised speed.
The Efaflex SST model is a high speed roll door is a better option, being an extruded aluminium door blade, than can provide a solution to sealing the opening, with the addition of providing a high strength solution against prevailing winds. 
With a capacity of up to 175km/h wind force, this model door is the strongest high speed door on the market, with an incredible opening speed of 2m/s.
DMF International is a Sydney based company, with agencies throughout Australia. DMF is the exclusive agent for the German manufactured Efaflex door range. 
These doors are intricately designed, yet can withstand tough conditions with high usage. 
With the ability to accommodate openings of up to 8m high and 10m wide, this customised door may be the answer to increasing your productivity. 
And if you don't want a solid doors blade, the option of window infills can be supplied to increase the light and visibility.
Call DMF for a no obligation free assessment and quote.
DMF International
1800 281 170