DMF doors roll with the punches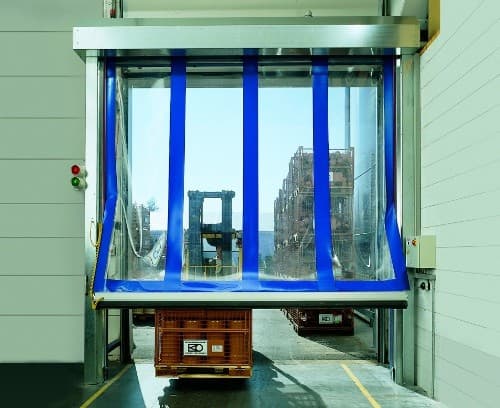 DMF International has been manufacturing and supplying specialised high speed industrial doors for over 20 years.
The team at DMF believe that high speed doors in forklift traffic applications come under two categories – those that have been hit, and those that will be hit.
The repair costs vary depending on the intensity of the damage to the door. Sometimes the bottom bar can be simply re-straightened.
However, when more severe, the repairs require a complete replacement of the bottom bar system, resulting in high costs, and the inconvenience of the downtime.
DMF supplies a range of high speed automatic doors, where the design incorporates an anti crash feature, which allows the door blade if impacted, to non destructively release from the guides, usually with no damage occurring to the door.
The door blade will automatically re-align into the guides, and the door is back into immediate operation. The feature provides peace of mind to management and keeps operational costs to a minimum.
But not all applications are suited to this feature. Openings exposed to high wind pressure should not have this feature as the door may be subject to blowing in under high wind conditions.
DMF, which manufactures its doors in Sydney, is the exclusive agent for the German Efaflex range of specialised high speed doors.
Contact DMF for more information or an obligation free quote.
DMF International
1800 281 170
www.dmf.com.au