DMF DOORS FOR HIGH TRAFFIC ENVIRONMENTS
28-04-2015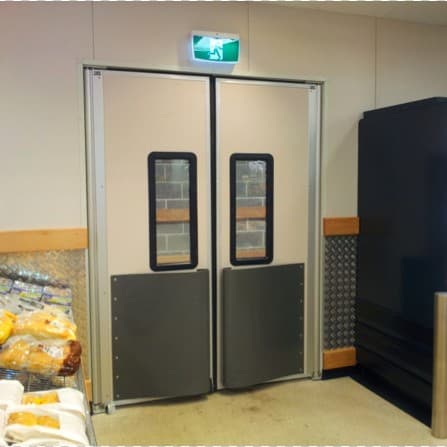 Do you need to control traffic in your workplace?
Do you need to control noise or temperature?
If yes, then read on …
DMF Traffic Doors are a 180º rigid swing door, made especially for high traffic workplaces.
Constructed of highly durable materials, DMF Traffic Doors provide high impact entry and exit as well as climate and noise control.
DMF International Pty Ltd is a Sydney based company that specialise in climate control type doors, including PVC swing doors, and high speed rapid roll doors. The Traffic Door is part of this range.
These doors are custom made by DMF in Sydney, and are complete with 40mm thick door panels constructed from ABS and high-density foam core.
The doors can be opened by manually pushing through, and then will automatically close by the heavy spring system.
The springs are completely concealed within the door stile, and have full torque adjustment. With double glazed PC windows, and durable "teardrop" bumpers, this design will tolerate push trolleys and forklift traffic. Sizes up to 3000H x 2500W, and optional colours are available.
DMF International has partners Australia wide who are all trained in the products.
Contact DMF for an assessment of your doorway application.
DMF International
1800 281170
www.dmf.com.au