DISTRIBUTED CONTROL SYSTEM GAINS SECURITY BOOST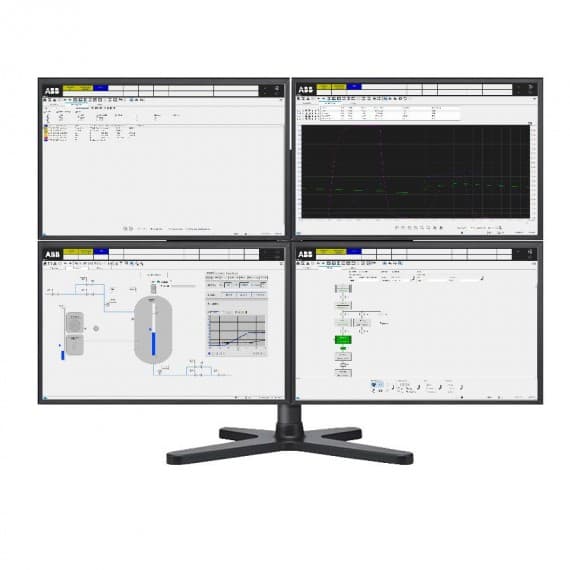 Now with quad-screen support
Security is a top priority of Industry 4.0, and enhanced security is one of the features of Freelance 2019, the latest version of ABB's cost-effective distributed control system (DCS) software for process industries. It combines the advantages of a DCS with programmable logic controllers, and is characterised by ease of use, scalability, flexibility and reliability.
The Freelance suite of solutions comprises Freelance Operations, a scalable process level option for use at operator level, and Freelance Engineering, which is used to configure and commission the system, including the operator interface.
The new version provides significant improvements throughout the system, including a significant increase in usability and efficiency by adding advanced navigation, sort and filter functionality, and a new, very modern user interface.
There's a new high-end PM 904F controller that supports four communications interfaces, providing more application memory and enabling the reservation of specific memory. As with all Freelance controllers, user applications are 100 per cent runtime-compatible, which also enables smooth upgrade opportunities.
Up to four monitors can be connected to a single operator workplace. The available display types per monitor, as well as the arrangements of the monitors, are easily configured and fulfil the typical requirements for occupational safety and operator effectiveness.
Freelance 2019 provides an additional alternative to its user management capabilities (known as Security Lock). The Extended User Management option makes use of Windows user accounts, supporting both local and domain accounts. As a result, typical requests for options such as central password management, rules for password complexity, or password aging can be fulfilled.
Freelance 2019 can run on Windows 10 and Windows 7 in the same system architecture, allowing users upgrade step-wise to modern IT infrastructure, which helps in reducing maintenance costs.
Available in a wide range of languages, Freelance takes five minutes to install on any standard computer and can easily be self-taught. The intuitive user interface enables easy operation and diagnosis of the entire system, and it is easy to back up as the entire application is just one file that fits on a small memory stick.
ABB Australia
1800 222 435
www.abbaustralia.com.au