Discover the genius of Da Vinci
31-08-2010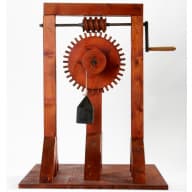 SEW-EURODRIVE will again present the Da Vinci Machines Exhibition on its 2014-2017 Australian outback tour.
The exhibition — visiting over 13 towns across the country in its four year journey — will bring to life the original drawings from Leonardo Da Vinci's notebooks in a display of over 60 wooden machine models, demonstrating principles of motion transmission, weight-lifting and automation.
One exhibit in particular, Da Vinci's gearbox, gives a fascinating insight into the origins of technology produced in the modern era by companies such as SEW-EURODRIVE.
SEW-EURODRIVE Managing Director, Robert Merola said attendees will have the opportunity to explore the world-famous exhibition and witness first hand the engineering ingenuity and true genius of Leonardo Da Vinci.
"It is always the exceptional achievements of individual thinkers, with ingenious ideas and clever decisions that drive engineering advancements," Mr Merola said.
The Da Vinci Machines Exhibition 2014-2017 Outback Tour makes its debut in Burnie, Tasmania in February, before heading to Mount Gambier in South Australia in April. For the full list of Australian tour details visit: http://www.artisansofflorence.com/.