DISCONTENT BREWS IN BRISBANE
03-08-2017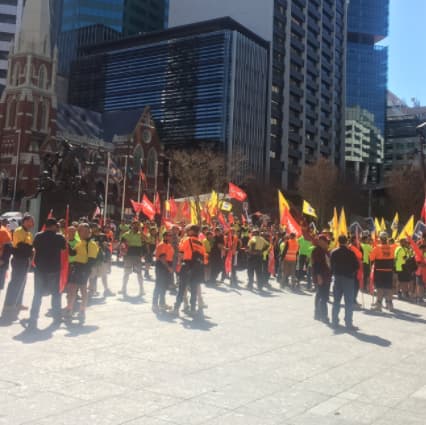 As part of a strike backed by the Services Union, the Australian Manufacturing Workers Union, the Electrical Trade Union, Professionals Australia, the Plumbers' Union, the Australian Workers Union, the CFMEU, the Rail, Tram and Bus Union (RTBU) and the Transport Workers Union, hundreds of workers took a stand outside Brisbane's City Hall earlier this week. 
The strike came about in response to concerns and delays surrounding the Enterprise Bargaining Agreement negotiations. 
RTBU assistant secretary Tom Brown said all unions involved in the EBA attended to protest the council's delay in delivering the agreement.
"We've been negotiating [the EBA] for seven months now and we've gotten nowhere until industrial action was applied for," he said.
"Now we see people making slow process."
Mr Brown said an agreement had to be reached, but currently discussions between unions and the council were tense and ended in handshakes and no deals.
"Eventually the pay has to be settled, there can be no EBA until the pay is settled."
More strikes are predicted, including industrial action scheduled for Friday the 4th of August. 
Australian Workers Union Queensland acting branch secretary Steve Baker said the EBA negotiations had left council workers angry.
"Our members and the general workers within the council feel that they've been ripped off."
CFMEU assistant secretary Andrew Sutherland said action from the unions was gaining momentum. 
"We're going to stand shoulder to shoulder and we're going to fight the council," he said.