Dimac distributor expansion in WA to further improve customer experience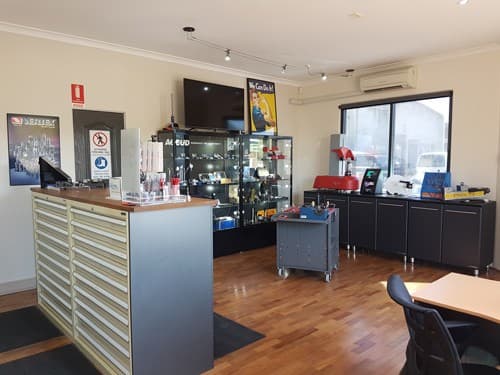 Malaga-based CTM Engineering Supplies has recently expanded its showroom and added a new training facility to provide customers with an enhanced purchase experience.
CTM is one of Dimac's largest and most successful distributors responsible for the sale of Dimac's extensive range throughout the Western Australian market.
CTM was founded by industry veteran Uli Stumpf, who started his career in Germany as an apprentice toolmaker before emigrating to Australia in 1989. He initially worked as a machinist before ending up working for the Sandvik Group for 15 years.
In 2013 Mr Stumpf opened his own business to distribute and re-sell an extensive range of engineering equipment that included precision measuring tools and test instruments, precision cutting tools along with Dimac's extensive range of CNC machine tool accessories and workholding solutions.
Dimac is the sole distributor of leading CNC accessory and workholding brands including Kitagawa power chucks, Lang Technik 5-axis vises, Freddy coolant recyclers, Reven air cleaners, Hydrafeed barfeeders and Royal's Rota-Rack.
Dimac also manufacture their own soft jaws at its manufacturing facility at Dandenong, Victoria. Dimac soft jaws are precision-engineered and made from 1040 (or K1144) carbon steel and available in a large selection of sizes covering all brands of chucks.
The company also offers custom sizes to suit any application including complete custom workholding.
"Our suppliers and manufacturers are globally recognised as the most reliable and precise companies throughout the industry," Mr Stumpf said.
CTM's expansion was completed late last year and is already paying dividends.
"The expansion has allowed us to stock a much broader range of products which in turn has enabled our customers to view products first-hand and take delivery of equipment in a much shorter time frame.
"We are one of the few specialists in metal working and workholding tools in WA and it is our extensive industry knowledge and advice that we give to our customers that sets us apart. Our expansive new training facility will allow us to provide greater technical support to our end users to ensure they get the most out of their new equipment and expand their product knowledge."
Dimac's Managing Director Paul Fowler described the relationship with Uli and CTM as "excellent." The expansion, he said, "will provide our WA customers with an enhanced service offering and shorter delivery times."
"The commitment and investment that CTM have made in additional training facilities will ensure that our WA customers enjoy the very best technical training available. Ultimately this will ensure that customer's equipment operates at optimum performance and their return on investment is maximised."
CTM Engineering
0409 209 008
uli@ctmes.com.au
Dimac
03 9771 6121
paulf@dimac.com.au
www.dimac.com.au