DIGITAL HEIGHT GAUGE FLOATS INTO POSITION AT AUSTECH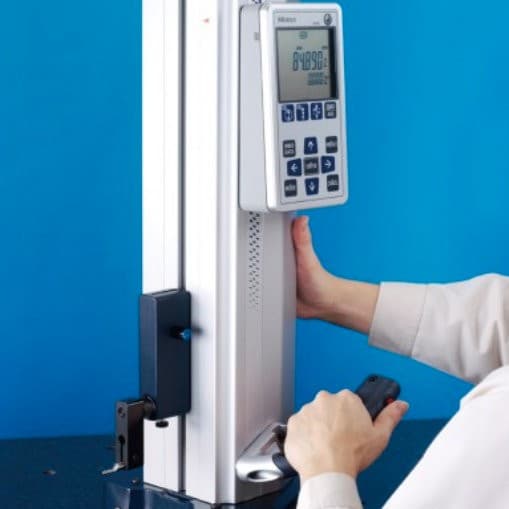 AMTIL member MTI Qualos returns to Austech with some of the latest developments from its long-term partner Mitutoyo. Visitors to Stand 624 will be able to see a number of novel applications for Mitutoyo coordinate measuring machines, together with all the latest software advances from a company that has been represented in Australia by MTI Qualos for more than 50 years.
All new at Austech will be the Mitutoyo QM-Height Series 518 digital height gauge. This high-precision measuring machine uses a high-accuracy and high-resolution absolute linear encoder for position detection.
In addition to height measurement, onboard firmware allows the QM-Height to measure inside/outside widths, inside/outside diameters, circle pitch (height components), free-form surface maximum/minimum heights and displacement by scanning measurement. The unit remembers each measurement in order to enable comparison with subsequent measurements.
One feature that is sure to impress visitors to the MTI Qualos stand at Austech is the Mitutoyo QM-Height's integral compressor, which at the flick of a switch allows the unit to be floated into position ready to take its first measurement.
All measurements are shown on an easy-to-view, simple control panel, which allows single-key operation of all main measurement functions, including go/no-go operations for QC.
Two versions of the height gauge are available, with measurement ranges of 0-350 or 0-600mm (0-14 or 0-24in). Both feature class-leading leading accuracy of 4.5μm.
A full range of options are available, including a variety of probe contact points, output to a PC via USB Input Tool Direct and wireless output using a U-Wave transmitter.
In addition to its display of Mitutoyo measuring equipment, MTI Qualos will also be featuring a selection of its other lines of machine accessories, including ranges of chucks and vices from Bison.
MTI Qualos
03 9450 1900
www.mtiqualos.com.au