DIFFERENT STROKES FOR DIFFERENT FOLKS
16-11-2017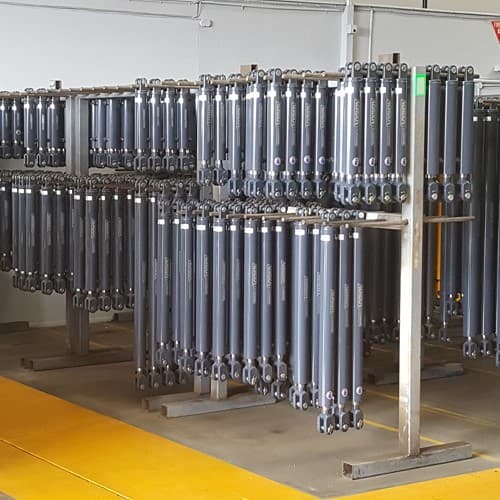 The Brisbane company Nordon Cylinders is well aware that it has a key role in keeping the wheels of industry turning. However, its customers at home and abroad require hydraulic cylinders from tiny to humungous, and they don't always want them today – sometimes, they want them yesterday.
At its manufacturing base just north of Brisbane, the long-established company continuously manufactures and refurbishes cylinders ranging from 1.5 to 10in bore – and units with strokes of up to 7m, if required.
The Brendale workshops produce cylinders with a wide range of specifications – bore, stroke, pressure, speed, gland, mounts etc – all supplied with a warranty.
These Australia-made products are now commonplace in such industries as manufacturing, processing, mining, construction, and agriculture.
To ensure rapid response to customers throughout Australia and internationally, Nordon stocks a complete range of 350 grade cast, machined steel mounts, and accessories. This provides engineers with extensive and flexible configuration options.
More capacity and capability
The company has been in the hydraulics business since 1974, and has built a solid reputation for its expertise, product quality, and commitment to customer service.
Its engineering knowledge and day-to-day problem-solving experience proved to be invaluable when choosing a new machine to add further capability and flexibility to its cylinder manufacturing capacity in Brendale – which is in the scenic Moreton Bay region.
After ascertaining their needs, the Nordon team chose a YCM H500B CNC machining centre from 600 Machine Tools, configured for their specific applications.
An ISO9001 accredited manufacturer, YCM was founded in 1954 and has built a worldwide reputation for technological innovation. Its latest design – a machining centre – won the Supreme Excellence Award of the Taiwan Machine Tools Industry Award 2017.
The H500B machining centre boasts high-rigidity construction and high-speed machining ability – up to 30m/min rapid feed speed. It features a direct transmission design on all three axes, along with pretensioned ballscrews to ensure motion rigidity and machining accuracy.
Its high-precision linear-motion guideways ensure low friction, high speed, and optimal damping force.
Noted for its high speed and high-precision spindle design, the H500B model has ceramic ball bearings for high-speed machining, featuring low thermal expansion coefficient and excellent rigidity performance.
Maximum torque is 350Nm, providing serious cutting capability.
Pallet change takes only 8s, and the table is programmable when undertaking machining from various axes.
Second to none
Nordon Director Norm Johnson believes that the Queensland manufacturer is "strokes ahead of the rest."
"In addition to providing high-spec cylinders to companies in major industries, we meet the needs of the hydraulics sector," he said.
"In Brendale, we manufacture roundline welded-construction hydraulic cylinders in Australia's most modern and best-equipped cylinder manufacturing facility.
"Our product range incorporates Australia's widest range of high-quality cast-steel mountings, supported by a market-leading catalogue, and client access to 3D modelling.
"The new YCM machining centre will add to our capacity to produce components, even quicker, and with our customary precision.
"We enjoyed a good working relationship with the Brisbane office of 600 Machine Tools, especially during the installation and commissioning of the new machining centre, and then during the operator training process," said Johnson.
Making a choice
Queensland Regional Manager for 600 Machine Tools, Wally Nujin, commented: "It is a pleasure to work with the Nordon team because they know what they want – precisely!
"It is our job to ensure that the machine we recommend could not be bettered for a particular application, either in specification or price.
"The H500B is the right machining centre for the tasks envisaged by the Nordon team, now and in the foreseeable future.
"600 Machine Tools is proud to be the exclusive distributor of the high-precision YCM range in Australia.
"We can see how the manufacturer's combination of thoughtful design and engineering excellence has been the cornerstone of their steadily increasing popularity in the world's workshops."
600 Machine Tools
02 9674 4738
www.600machinery.com.au