DIESEL-POWERED PRESSURE CLEANER IS A QUIET ACHIEVER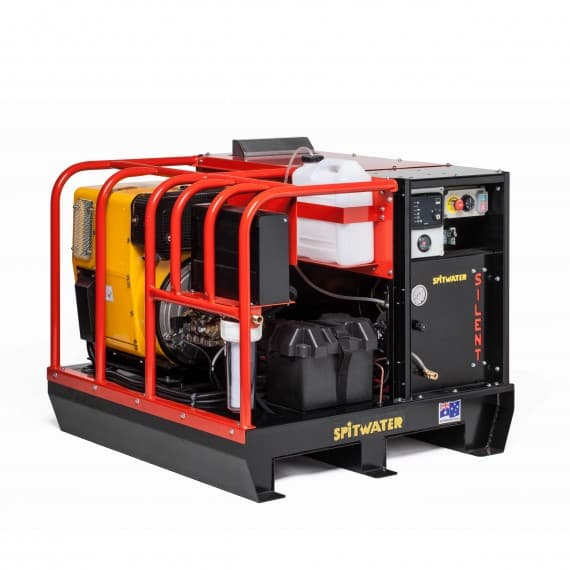 The latest model of high-pressure water cleaner from Spitwater uses a "silent" diesel engine to provide industrial-grade cleaning performance in applications where noise might be a problem.
Designed and built at Spitwater's Albury manufacturing plant, the Model SW15200DES Silent Diesel delivers 15L/min hot or cold water flow at 200bar pressure in a self-contained, portable machine.
Like all Spitwater machines, the new unit is based on a three-ceramic-piston brass-head pump from Interpump, chosen for its compatibility with Australian water conditions. The pump is directly coupled to a 9.6kW Hatz Model 1D81C Silent Pack diesel engine, geared so that the pump operates at a constant 1800rpm.
The single-cylinder diesel engine is air cooled, with a vertical cylinder, and uses a direct-injection multi-hole nozzle. The flywheel fan and charging alternator are integrated with the flywheel so there are no V-belts. It is encased into a noise-proof sheet-metal capsule, complete with a twin exhaust silencer system.
The engine incorporates electric start with overcranking protection, and generates a noise figure of just 62.8dB(A) at 7m, which makes it highly suitable (for example) for cleaning outdoor surface areas in densely populated areas.
Like all Spitwater models of this type, the Model SW15200DES Silent Diesel has a large water cooling tank that tank acts like a radiator in a car and is designed to allow full, 100% water bypass. This system offers real protection from temperature fluctuations in the pump.
It also features a 12V-activated diesel burner system with Spitwater's own-manufactured horizontally mounted, half-inch diameter, 45m-long heating coil for hot water production. These heating coils offer cleaner burning, less sooting and a longer service life than alternative designs.
 
The unit offers adjustable-rate chemical dispensing from its 10L chemical tank, and is supplied ready to go with 10m of heavy-duty double-wire-braided high-pressure hose and a high-quality heavy-duty 340bar gun. A wide range of accessories is available.
Spitwater high-pressure water cleaners are built tough for tough Australian working conditions and will remove heavy dirt with ease.
Spitwater
1300 SPITWATER
www.spitwater.com.au