DEVELOPMENT BOARD CONNECTS EMBEDDED APPLICATIONS TO CLOUD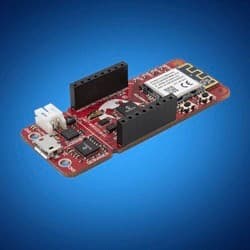 The plug-and-play PIC-IoT WG development board (AC164164) from Microchip Technology is available from Mouser Electronics. It features a PIC microcontroller, Wi-Fi module and CryptoAuthentication secure element IC, and offers an ideal launching point for virtually all IoT devices and applications.
The board enables developers to migrate next-generation PIC microcontroller-based applications to the cloud. Its low-power PIC24FJ microcontroller is ideal for battery-operated, real-time sensing and control applications, with core independent peripherals supporting complex performance with minimal code and power consumption.
The board is supported by Microchip's MPLAB X integrated development environment, MPLAB Code Configurator rapid prototyping tool and an online portal that enables immediate visualisation of published sensor data. It is also compatible with more than 450 MikroElektronika click boards that expand sensors and actuator options.
Also available from Microchip are the single-band, 2.4GHz IoT network controller (ATWINC1510), which offers easy Wi-Fi connectivity to Google Cloud, and the ATECC608A cryptoauthentication device provides secure authentication and is pre-registered for use on the Google Cloud IoT Core and zero touch provisioning.
Mouser Electronics
+852 3756 4700
au.mouser.com