DEVELOPER MARKS MILESTONES, PLANS EXPANSION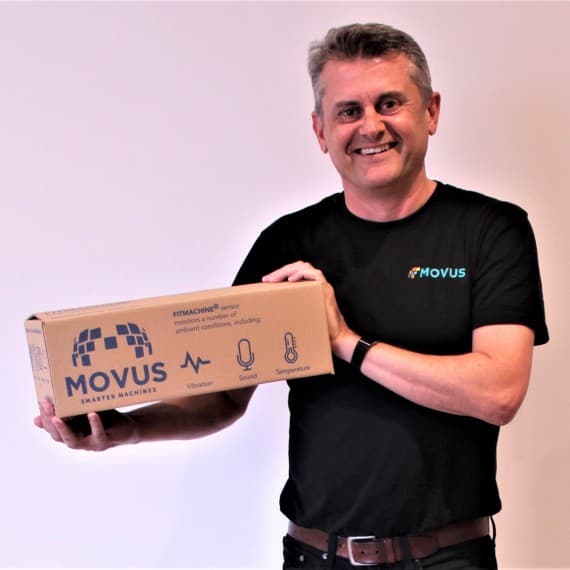 Brad Parsons, Movus: "real value to our customers and partners"
Twelve months after securing $4.8 million in Series A funding, Movus, the developer of the wireless IIoT sensor and machine monitoring solution FitMachine ("the Fitbit for machines"), has marked several major milestones delivering on its intention to scale the business using that investment. 

It has more than doubled its team from 12 to 25, expanded its R&D facilities and moved into new dedicated two-storey facility in Brisbane's CBD, all while keeping manufacturing of FitMachine local to Queensland. 

The funding round by Blackbird Ventures, Telstra Ventures and Skip Capital (Atlassian co-founder Scott Farquhar's private investment fund) has allowed Movus to also move into international markets, including the US by partnering with ALS Global.

"It's incredibly motivating to reflect on what we've achieved in the past twelve months since we received the investment injection, and I'd like to congratulate our team on its commitment to delivering on these business-changing goals," Movus found and CEO Brad Parsons says. "This relentless traction confirms that we now operate with confidence with a game-changing capability that disrupts laggard incumbents and delivers real value to our customers and partners."

Movus has continued to win new customers and now has more than 50 global and regional enterprises, including Asahi Beverages, Wesfarmers business CSBP and the University of Queensland. 

To prepare for its international scale-up, Movus has successfully outsourced the contract manufacture of FitMachine to IntelliDesign, a Brisbane-based industrial sensor manufacturer. Significantly, it has achieved certifications with the US Federal Communications Commission and the European Commission's CE, ensuring FitMachine can be sold in the US and the European Economic Area.

"It's impressive to see the laser focus Brad and the team at Movus have maintained, to deliver on the strategy and objectives they communicated during the investment round," Blackbird Ventures co-founder Rick Baker says. "These achievements all combine to demonstrate enterprise scale and customer value. We look forward to seeing what the next twelve months bring for Movus and the IIoT industry."
Earlier this year, the Movus was invited to join National Energy Resources Australia's (NERA) SME ConnectER program and featured in NERA's Innovation Station at the Australasian Oil and Gas (AOG) conference in Perth. The Innovation Station is the hub for NERA's AOG activities and networking events and showcases innovators and collaborators who are transforming data and digitisation, automation and robotics, artificial intelligence and machine learning in the oil and gas industry. This supported the company's launch of its newest innovation, FitMachine EX, an intrinsically safe solution to continuously monitor equipment in explosive and sensitive environments, such as oil and gas, in a bid to reduce maintenance costs. FitMachine EX was debuted at AOG.
Movus was also awarded Startup of the Year 2019 by the Future of Mining, following its FitMachine EX launch. The Future of Mining conference brings together global mining leaders to share their vision of how mining will evolve and embrace emerging technology like artificial intelligence, IIoT, autonomous vehicles and augmented reality.
Finally, Movus has won a Federal Government Business Growth Grant from the Entrepreneurs Programme and recently announced a joint project with the Advanced Manufacturing Growth Centre to support small and medium Australian manufacturing enterprises to become more competitive. Both initiatives will help the company expand domestically and internationally.
Movus
www.movus.com.au