Design company proudly supports Aussie manufacturing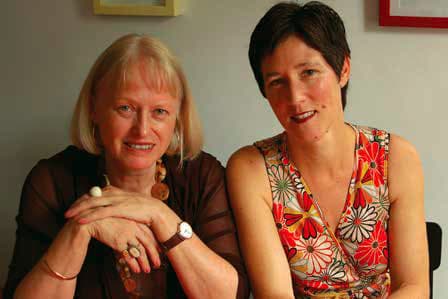 Gillian Corban and Amanda Blair have been designing products for more than 20 years.
The two designers opened a niche stationery business in 1988 offering handmade journals and albums for the corporate and retail sector.
Corban & Blair has since built a reputation for style, innovation and quality combined with fast and friendly customer service.
And despite strong competition locally and overseas, Corban & Blair have stayed ahead of the field by offering specialised designs.
Last year the management of Corban & Blair faced a dilemma.
The family-owned and run business they were using to manufacture in Australia had decided to close.
They had the choice of manufacturing the products off-shore or finding another Australian manufacturer who could meet the challenge.
"Imports from China don't always meet out needs," said managing director Gillian Corban.
Orders vary from small to large runs to large runs, with specifically designed packaging with corporate logos, or presentation boxes.
Some companies require custom made compendia for meetings that include a space for an iPad, or high end leather gifts for senior managers.
Also, the turn-around time for incentive gifts can be as short as two weeks.
Therefore it was vital to use a manufacturing base that is nearby.
Finding a local manufacturer to turn around small quantities of high-end products suitable for the top end of the market, has posed difficulties.
While Corban & Blair source from China, experience has shown the process is not devoid of issues.
Manufacturing unique products requires careful management and structured communication to get the desired finished goods.
'Manufacturing off-shore doesn't always let us meet our customer needs'
And timeframes can blow out, not just in terms of freighting delays, but having to "stand in line" or "wait our turn" behind bigger international players.
Few Chinese manufacturers are enthusiastic about short runs or small orders. They prefer large quantities.
"We are in the business of providing unique products to our customer specifications, and this always includes a timeframe. Manufacturing off-shore doesn't always let us meet our customer needs, Gillian said.
"We have survived for 25 years and I wasn't about to let us lose a market sector because we didn't have a reliable local manufacturer, here in Australia," she said.
Gillian was also concerned about the redundancy of the manufacturing staff in Australia with skill and expertise.
"We have at times struggled to find good manufacturers here, ones who can handle jobs as diverse as stitching, printing on cloth, binding or manufacturing genuine leather products."
The solution was to buy a manufacturing company.
While this adds strain to the business in a weak growth period, Corban & Blair believe that driving success during a downturn will lead to greater future growth.
As well as the challenges, the benefits of owning their own manufacturer affords the company greater control over production, added flexibility and the opportunity of improving the production processes with possible streamlining of costs, benefits that any Australian company would like to embrace.
"We are an Australian business, and very proud to keep the words 'Made in Australia' on our product packaging," says Ms Corban. "This is a new venture for us but it demonstrates the value of keeping manufacturing on Australian shores."