DEPRECIATION WITH BENEFITS
08-05-2018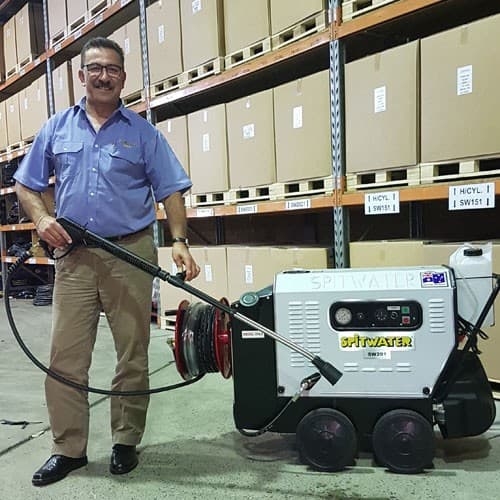 Milo Gajin demonstrates the Spitwater Model SW201 - a three-phase electric hot- and cold-water pressure cleaner, rated at 200bar pressure with 15L/min flow. This one is fitted with the optional hose reel and 20m of high-pressure Forever hose
Accelerated depreciation for small business runs out on the 30th June 2018, but Spitwater reckons that investing in a high-pressure cleaner for your business before that date can give you depreciation with real benefits.
According to Milo Gajin, Branch Manager of Spitwater NSW: "We all want the best equipment for our business and at the same time maximise our taxation benefits.
"Accelerated depreciation was introduced by the government as a budget measure a couple of years ago, to boost investment by small business, to make small business more efficient and enhance business growth.
"An industrial pressure cleaner, vacuum cleaner, scrubber dryer or an industrial heater is a perfect asset to purchase to maximise the benefit to your business, from accelerated depreciation offered by the government, if you qualify," he explains.
"These types of machines are used in income generation by many small businesses and are well and truly under the $20,000 threshold," Gajin continues.
Accelerated depreciation allows small businesses with turnover up to $10 million to write-off 100% of any qualifying business asset purchased worth up to $20,000 in the same financial year (conditions apply). This incentive has been running for a couple of years but is definitely finishing on the 30th June 2018.
"For example, if your business is a transport company that qualifies, a Spitwater hot/cold pressure cleaner is a great asset to purchase," says Gajin. "It will enable you to have your fleet spotless, comply with random road vehicle inspections and reduce your taxation liability… a perfect benefit all-round!"
Spitwater machines are built tough in Australia for tough Australian working conditions and will remove heavy dirt with ease. To add even greater incentive to its customers, Spitwater is having an end of financial year sale offering Spitwater Dollars, with every machine purchase. These Spitwater Dollars can be redeemed for machine accessories and other Spitwater products.
"This is why Spitwater is your true supplier friend with great benefits," says Milo Gajin, adding: "Contact you nearest Spitwater branch or a dealer near you for all the details!"
Spitwater
1300 SPITWATER
www.spitwater.com.au